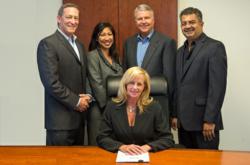 "Nectir's unique business model is a great match for professionals with some type of staffing experience or have numerous connections who would benefit from staffing services."
Dallas, TX (PRWEB) August 29, 2012
Nectir Inc., an emerging, nationwide network of staffing firms headquartered in Dallas, Texas, announces the franchise opening of Nectir Austin. Texas native and business veteran, Elizabeth Daniel, will serve as Founder and President of the location. Nectir Austin will provide contingent staffing, contract-to-hire services, direct-hire services and rapid deployment staffing for local and regional companies.
"We couldn't be more excited to open a Nectir location in the great city of Austin," says Daniel. "It is a strategic time and location to launch a staffing franchise, and we are enthusiastic about growing within the region."
Historical trends point to staffing industry growth during periods of economic recovery, as many employers depend on staffing firms because of their flexibility. Staffing Industry Analysts reports that U.S. staffing industry revenue is expected to expand by 10 percent in 2012 and a recent CareerBuilder survey found a 12 percent increase in the number of employers planning to use contract or temporary workers this year. This has led to a renewed interest in staffing franchise opportunities from entrepreneurs and investors.
"Nectir's unique business model is a great match for professionals with some type of staffing experience or have numerous connections who would benefit from staffing services," says Abid Abedi, CEO and Founder of Nectir. "The Nectir family is confident that Elizabeth Daniel will do an excellent job at expanding its continuously growing brand. Her professional background makes her a great partner and we know she will be successful with her business endeavors."
Daniel founds Nectir Austin with nearly 20 years of business acumen. Her expertise includes staffing, business to business sales, marketing, communications and management. Daniel's business experiences have led her to work with professionals from a variety of industries including pharmaceutical, medical devices, real estate, distribution and manufacturing.
While Nectir franchises are privately owned, the company provides its local franchise owners with back-office services, infrastructure, recruiting services, payroll funding and market support so that partners can directly focus on client-related activities. Professionals who have worked in the staffing field or contact-rich industries such as human resources, transportation, information technology or telecommunications are a strong possible match for franchise ownership.
For more information about Nectir's franchise opportunities, visit http://www.staffing-business.com or call 972-528-8262.
About Nectir, Inc.
Nectir, a Managed Staffing company, was founded in 2010 in response to the changing dynamics of the staffing industry. The company provides back-office services, infrastructure, robust recruiting, payroll funding and marketing support through a franchise model that allows its franchise partners to focus exclusively on client-facing activities. Nectir staffing franchises are independently owned and operated and provide contingent staffing, contract-to-hire, and direct-hire services to companies in their respective local and regional areas. For more information, visit http://www.staffing-business.com or call 972-528-8262.