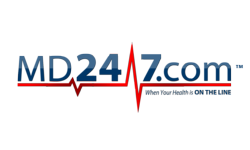 MD247 Offers Blog Exchange.
Tampa Florida (PRWEB) August 29, 2012
Telemedicine? Telehealth? Concierge Telemedicine? Concierge Telehealth? The marketing team responsible for the innovative MD247 supplementary telemedicine healthcare program has heard ever skeptical uttering of keyword phrasing associated with the industry of telemedicine. In an effort to both battle the skeptics, and work in conjunction with fellow industry professionals, MD247 Founder Thomas Meehan issued an invitation to medical industry professionals to explore the possibility of either guest submissions or a link exchange between blogs.
The idea behind the exchange is to take a professional who currently maintains a blog, or actively participates as a writer for a blog as a guest writer, and introduce that writer to the loyal readers on the MD247 telemedicine website and social media accounts. The MD247 team of writers would then be responsible for providing the guest author an article drafted from the MD247 telemedicine perspective for his or her own website, blog or social media account.
Thomas Meehan invites all interested writers to contact MD247 telemedicine at mgermann(at)md247.com, with the subject line "Blog exchange," to indicate their interest in learning more about the innovative approach to sharing industry information.
Largo Florida based MD247.COM (MD247; MD/247; MD 247; M.D.247; MD-247) provides an affordable telemedicine supplement to existing healthcare services. MD247.COM telemedicine program members have unlimited telephone access to a nationwide medical support team, all with just a single phone call to the MD247.COM telemedicine Talk to a Doctor/Talk to a Nurse Hotline. MD247.COM has a virtual platoon of registered nurses; board certified physicians and a support staff available to members for all non-emergency situations. More information about MD247.COM is available online at http://www.md247.com.