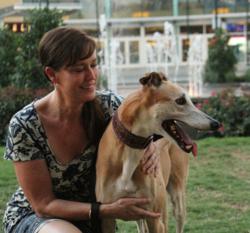 Dallas, TX (PRWEB) August 29, 2012
The second edition of Logan's Secret by Dallas author Suzanne Burke, which now includes 20 additional pages of greyhound facts and history, has been released on August 28, 2012 and will be featured at a public fundraiser for the Greyhound Adoption League of Texas (GALT) entitled Sugar and Paws that will take place Saturday, September 8, 2012 from 7:00 p.m. – 9:30 p.m. at Grubbs Infiniti in Euless, TX. The event advertising includes: A tasting of sweet and savory after-dinner delights from Artisan Baking Company, Susie's Sweet Boutique, Velata Chocolate Fondue and Molto Formaggio, as well as dessert wine tasting with Sommelier Christina Chilcoat and made to order coffees from Chic Coffee Events.
The book, based on real-life incidents, offers children ages seven and up an inspiring story of survival, along with important lessons in goal setting and perseverance. The 110-page illustrated, modern day classic centers around Logan, a retired racing greyhound and is told from the champion racing dog's perspective, which makes for fascinating reading by children and the young-at-heart.
Readers are then treated to twenty additional pages with fun facts and history of greyhounds – one of the oldest and most intriguing breeds in the world. And like the first edition of Logan's Secret, the second edition offers educational projects for children to stimulate creative writing, expanded vocabulary, and critical thinking.
"Logan's exciting adventure from racetrack to forever home is remarkable enough," says author Suzanne Burke, "but the life lessons he teaches because of that journey are worth sharing with readers – especially children." Ms. Burke adds, "It's also my hope that readers will want to learn more about this wonderful breed of dog and consider adopting one of the many greyhounds needing a forever home."
Books are $13.85 each with a percentage benefiting the Greyhound Adoption League of Texas (GALT) and other greyhound adoption groups. Learn more at http://greyhoundstories.com/.
Contact:
PJ Nunn
972-825-1171
Nunn(dot)pj33(at)gmail(dot)com
http://breakthroughpromotions.net