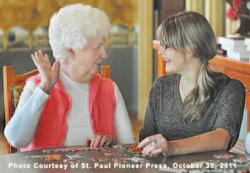 MindStart takes away the guesswork for caregivers
Minneapolis, MN (PRWEB) August 29, 2012
There are 5.4 million Americans living with Alzheimer's disease or other forms of dementia according to the Alzheimer's Association 2012 Facts and Figures; 60 to 70 % of these people live at home. These people often become inactive as their previous hobbies become too difficult. Home care workers, who often spend hours at a time with their client, are perfectly aligned to incorporate dementia activities that are appropriate for the person, providing important cognitive stimulation and engagement.
Direct health care workers, such as home health aides and companions, help with daily living skills such as dressing, bathing, and food preparation. They form the largest component of the formal health care delivery system for older adults. Dementia is prevalent in many older adults served.
According to state home care programs in Connecticut, Florida and Michigan, more than one-third of older people who receive primarily nonmedical home care services, such as personal care and homemaker services have cognitive impairment consistent with dementia (Alzheimer's Association 2012 Facts and Figures).
The Alzheimer's Association's Dementia Care Practice Recommendations for Professionals Working in a Home Setting (2009) delineates, the care goals for a person with dementia. Goals include designing meaningful activities that match the person's interests, choices and abilities. Another care goal is to form a meaningful relationship with the person, since a person with dementia can sense disinterest or impatience from the home care staff. The guidelines state that these clients need to use their skills during daily activities in order to remain as independent as possible.
Alzheimer activities, such as large piece puzzles and modified games, can be tools to help the home health aide or companion to provide quality care, while providing important benefits to the person with dementia that they care for. MindStart is the only United States' company to offer a line of original Alzheimer activity products. The activities are designed by a dementia-care occupational therapist to provide simplified, yet dignified, activities that are adaptable for different stages of dementia.
In order to provide these benefits to individuals with dementia through home care staff, MindStart has partnered with HomeCareHowTo.com. This company, owned by Brendan John, started with John's book and website, "Home Care How To - The Guide to Starting Your Home Care Business". Subsequently, John began to offer consulting services for aspiring home care agency owners. Today, HomeCareHowTo.com offers step-by-step instruction, forms, tools, manuals, vendors, discounts and any coaching that is needed to get a home care agency started and thriving.
Knowing the prevalence of dementia in home care clients and the difference that home health aides can make, John was excited to introduce his customers to MindStart: "The products include user guides that give easy explanations of how to use the product and how to adapt the activity to different 'activity levels' or levels of dementia. Products are also designed to be durable and re-usable, so they can be used with many different clients over time. MindStart takes away the guesswork for caregivers, giving them quick and easy activities that can be successfully used over and over."
The collaboration of HomeCareHowTo.com and MindStart provide both existing and start-up home care companies with the tools and knowledge to meet the quality practice care goals for individuals with dementia, differentiating themselves as experts in dementia care. Together, they can help keep individuals with dementia active and engaged.
MindStart is a small, family owned business, started by an occupational therapist to provide activities for individuals with Alzheimer's disease or other dementias, while providing support and education for caregivers. MindStart works with dementia care experts and USA companies to design and manufacture adapted, yet dignified, activity products that are based on common hobbies and themes of everyday life and that provide cognitive stimulation for every stage of the dementia disease process.