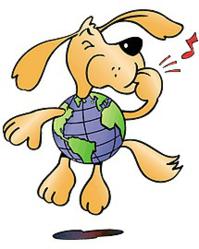 This is what global warming looks like…The extra heat increases the odds of worse heat waves, droughts, storms and wildfire.
Bethesda, Md (PRWEB) August 29, 2012
Hurricane Isaac is threatening the Louisiana Gulf Coast near the anniversary of Hurricane Katrina, capping a summer marked by extreme weather events and renewing eBook readers' interest in eBook environmental superhero Earth Dog.
Isaac is expected to make landfall south of New Orleans by early Wednesday as a Category 2 hurricane with winds predicted to top 100 mph. Meanwhile, tropical-storm-force winds are extending through much of the Gulf Coast, bringing heavy rains and battering coastal areas of Louisiana, Mississippi and Alabama. These states and the Florida panhandle could see as much as 20 inches of rain and storm surges of up to 12 feet, according the National Weather Service, producing flooding conditions and possibly spawning tornadoes along the northern Gulf Coast.
Isaac's arrival on the seven-year anniversary of Hurricane Katrina and at the end of a summer marked by extreme weather events is leading to speculation about the consequences of climate change. Already, the stretch of blazing-hot weather across the United States has proved historic, with temperatures climbing into the humid 100s and shattering thousands of heat records since June. In the midst of the heat wave, a rare derecho storm hit Washington, D.C., the weekend before the July Fourth holiday.
Against this backdrop, Earth Dog's mission is more important than ever: to teach kids to be good stewards of their planet and take charge of their environmental future by promoting a cleaner, healthier world. The story chronicles Earth Dog's transformation from a junkyard dog into an environmental superhero dedicated to the task of fighting pollution.
Earth Dog educates young people around the world about environmental issues affecting their planet. He teaches problem-solving skills through understanding and cooperation. The environment is the number-one concern of students in the classroom today.
The Earth Dog eBook story is featured on Amazon Kindle and Apple iTunes, where advances in technology are fueling sales of eBooks like Earth Dog. Young readers are turning to eBooks in record numbers, and eBook readership now surpasses that of traditional books, according to reports.
"The Earth Dog Story" was first published as a storybook in 1992, then in 1996 in cooperation with the U.S. Department of Energy as a part of its Environmental Out Reach Program with Weekly Reader. Now, the popular children's environmental superhero is making his comeback in app and eBook format with auto-narration to appeal to children of all ages. Earth Dog® became available as an app in iTunes and as an eBook, titled "The Earth Dog Story," just in time for Earth Day 2012
For more information, the public should visit the new Earth Dog website at Earthdog.org or
The Earth Dog Story at Earthdogstory.com.