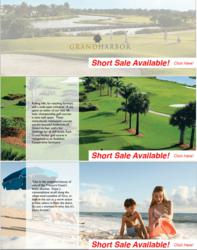 VeroBeach.co
Vero Beach, Fl (PRWEB) August 30, 2012
Hurricane Isaac is hitting the Louisiana Gulf Coast on the anniversary of Hurricane Katrina, sparing Florida and Vero Beach real estate a direct hit as Grand Harbor, Vero Beach, engages in a short sale. Experts advise that now is a good time to consider purchasing a "short sale" Grand Harbor property.
Isaac is expected to make landfall south of New Orleans by early Wednesday as a Category 1 or 2 hurricane with winds predicted to reach as high as 100 mph. Meanwhile, tropical-storm-force winds are extending through much of the Gulf Coast, bringing heavy rains and battering coastal areas of Louisiana, Mississippi and Alabama. These states and the Florida panhandle could see as much as 20 inches of rain and storm surges of up to 12 feet, according the National Weather Service, producing flooding conditions and possibly spawning tornadoes along the northern Gulf Coast.
According to reports, Isaac will maintain hurricane strength, making it the first to hit the Gulf Coast since Ike in 2008. Southeastern Louisiana is in its crosshairs, but the track could still veer farther west or to the east in Mississippi. Regardless of where it hits, Isaac's reach stretches east to Florida.
People along the Gulf Coast are preparing for the onslaught, buttressing their homes to prepare for damaging winds and potential flooding. Isaac could push storm surge as high as 12 feet into parts of Louisiana and Mississippi, and one to three feet high as far away as Florida's West Coast.
Part of the Treasure Coast on Florida's East Coast, Vero Beach is located in Indian River County. With 26 miles of unspoiled beaches, the area is a nesting ground to such creatures as the Loggerhead sea turtle and 35 other rare and endangered species. Vero is nationally ranked 12th in "The Rating Guide to Life in America's Small Cities" and is a prime Florida resort destination.
Grand Harbor Vero Beach boasts two championship golf courses and a 144-slip, deep-water marina, sheltered from the weather and with two nearby inlets making the open sea accessible.
Fishermen find a range of sport and table catch in the Indian River, surf and coastal waters known as the Sailfish Capital of the World. Beach-goers find miles of tranquil beaches and access to the Grand Harbor Beach Club. Tennis enthusiasts enjoy 10 fast-dry clay courts, and nature lovers come to explore abundant plant and wildlife in one of the world's most diverse estuary systems.