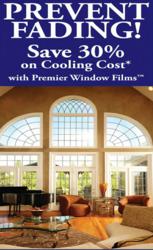 "The most cost-effective options in terms of payback period are adding window films to existing windows" Lawrence Berkeley National Laboratory (LBNL)
Washington, DC (PRWEB) August 30, 2012
The U.S. Department of Energy has proclaimed October as Energy Awareness Month to help Americans use less energy and reduce carbon emissions.
Window film is one of the smartest ways to make existing buildings more energy-efficient and save on energy bills. Lawrence Berkeley National Laboratory (LBNL), one of the world`s top energy research centers, reported that, "The most cost-effective options in terms of payback period are adding window films to existing windows, using mini-blinds (or some type of internal window shade), and planting trees around the sunny sides of a building1."
Recognized by the U.S. Department of Energy and the Clinton Climate Initiative, Premier Window Films™ provides energy-related savings as well as other benefits. Homeowners and facility managers can reap tremendous benefits from professionally-installed Premier Window Films™
Cut air conditioning bills up to 30 percent: By rejecting 79 percent of solar energy, window tint film keeps a room cooler and more comfortable. In commercial buildings, window film reduces the HVAC load and can significantly reduce the use of cooling systems.
A cost-effective alternative: Professionally installed window film costs just $6.50 to $12.00 ft2 on average — considerably less than replacement glass. LBNL found that window film tops the ROI list when competing with window replacements, blinds, awnings, shade trees and reflective roofs. *
Improve the ROI of other energy-saving products: Window film multiplies their turn on investment of other technologies such as HVAC and refrigeration. For LEED certification, window film can be applied toward six distinct credit categories.
Few products offer as many benefits as window film. In addition to energy savings, window film also offers UV protection to reduce the risk of skin cancer and the fading of furnishings as well as safety enhancements to reduce the risk of broken glass with security film.
*Tax Credit Has Expired
Call - 866- 407- FILM
PremierWindowFilms.com