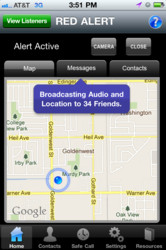 "People are so connected today. It's ridiculous that anyone should be victimized when they have so many friends who would gladly intervene if given the chance."
-RealHelp Founder, James Medina
Newport Beach, CA (PRWEB) August 30, 2012
The RealHelp App for the iPhone goes beyond emergencies as a justice app.
The RealHelp App is more than just an emergency app or rape app; it's a justice app. Whereas conventional emergency apps contact emergency services, notify private security organizations, or text emergency messages to a few contacts; RealHelp invites the user's friends to witness and respond to the situation as it happens while recording everything. Traditionally people have used the internet to share things like videos of abuse, the names of known rapists, and the contact information of various bad actors. RealHelp takes this a step further by broadcasting audio, pictures, and location to pre-selected friends in real time. Broadcasting in real time makes what it shares more valuable, and more likely to prevent a crime from occurring. While a victim might denounce his or her attackers online after an event; there will always be a way to cast doubt on what actually happened. When a RealHelp Alert is triggered it invites users to hear what's happening as it happens. There's no exaggeration or interpretation. Its bigger advantage is that RealHelp is more likely to record events that don't become crimes since the prospect of their actions being made public has a tendency to stifle would-be criminals. Even if broadcasting a situation live isn't enough disincentive to stop a would-be rapist or abuser in his or her tracks; RealHelp does give the user's friends all the information they need to physically respond or direct emergency services to the user's location. "People are so connected today. It's ridiculous that anyone should be victimized when they have so many friends who would gladly intervene if given the chance. We built RealHelp to give those friends that chance to help, and to give victims a way to call for help that they know will have an impact." explains RealHelp's founder, James Medina.
About The RealHelp App
The RealHelp App heads off potential emergency situations by instantly notifying dozens of preselected friend and broadcasting audio, location, and pictures to them in real time. RealHelp is available fully featured and free for the iPhone in the iTunes App Store. It's supported through in-app donations by RealHelp users. RealHelp is ad-free since ad servers would slow down the app. There's a graphic guide to how it works here: How RealHelp Works, and plenty more information at RealHelpApp.com.