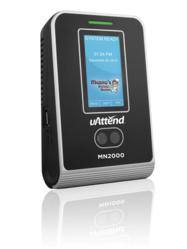 We are confident that the MN2000 will for the first time offer businesses the opportunity to utilize groundbreaking biometric technology at an affordable price and in a system expressly designed for how people want to do business today…in the cloud
San Diego, California (PRWEB) August 30, 2012
Processing Point, a recognized leader in time and attendance solutions, and maker of the uAttend Employee Management System, announces the introduction of the MN2000 - a new biometric facial recognition time clock that is part of the uAttend online time and attendance solution. The MN2000 was launched following the overwhelming success of uAttend's fingerprint time clock and RFID card time clocks, which have quickly catapulted Processing Point into the lead in the burgeoning time and attendance marketplace.
The MN2000 utilizes sophisticated facial recognition firmware to identify and "punch" an enrolled employee with a simple glance at the device. This biometric solution eliminates employee handling of the device, making it the most hygienic of all time clocks available on the market today.
In addition to offering the ability to enroll up to 200 employees to punch in and out with their face, the MN2000 also comes with an RFID card reader and PIN pad that allow punching for an unlimited number of employees.
The touchscreen units are easy to install and set up, and feature the plug and play Internet connectivity that makes the uAttend line a favorite of small and large enterprises alike. All punch data from the MN2000 is sent it real time to uAttend's web-based time tracking software, allowing instant reporting capabilities and the ability to perform time and attendance functions from any computer with Internet access.
Retailing for less than $300, the MN2000 is hands-down the most cost-effective facial recognition time clock available today. As with all uAttend time clocks, the MN2000 comes with a lifetime guarantee, ensuring that it is the last time clock any business will need to purchase.
"We are confident that the MN2000 will for the first time offer businesses the opportunity to utilize groundbreaking biometric technology at an affordable price and in a system expressly designed for how people want to do business today…in the cloud," says Andrew Newby, Chief Operating Officer of Processing Point.
For more information about the uAttend MN2000, or any other uAttend time clocks, time tracking software or services, please call 800-518-8925 or visit the corporate Website at http://www.uattend.com.