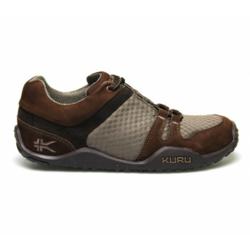 The Cirques have managed all my adventures in style, ease, and most of all, comfort.
Salt Lake City, UT (PRWEB) August 30, 2012
KURU Footwear has released the second generation of the Cirque, one of their most popular shoes for men. The brand's customers requested this shoe be updated in a recent survey and cited the shoe's versatile, sophisticated style and exceptional comfort as reasons to bring it back. Since KURU is a web-driven brand, the Cirque is exclusively available the brand's website at kurufootwear.com
"We're excited to bring back the men's Cirque in some awesome new colors and improved sole," said KURU Founder, Bret Rasmussen. "I love to see our customers become so loyal to a particular product. I believe the Cirque has done so well because it can be worn anywhere; from the mountains to dinner, it's a super versatile shoe."
An exclusively Mens style, the Cirque is popular with the brand's customers because of its unique, urban inspired styling, its orthotic level comfort and multi-functional outsole. The brand designed the shoe to be an outdoor shoe for the active lifestyle. It has moisture wicking liners, full-grain leathers in the high impact areas, and mesh in all the right places to allow heat to escape. The Cirque also features a high-grade, rubber outsole with large lugs for superior traction on the trail.
"I've been wearing my Cirques now nearly every day for the past year…" Customer, Steve posted on kurufootwear.com "They've trudged through winter slush/snow in the Midwest, up and down sandy trails in Utah's desert, hiked/climbed in the high Sierras, mucked through muddy Hawaiian Volcano trails, and ran like mad 2 miles down the rocky creek bed trails to get back to the car before we got ticketed at Red Rocks. The Cirques have managed these adventures with style, ease, and most of all, comfort. All in all, KURUs rock."
KURU Footwear is built on the concept of, "If your feet aren't flat, why are your shoes"? The Cirque features KuruSole™ technology which is biomechanically optimized to custom mold to the shape of the wearer's feet. This technology features an orthotic molded directly into the footbed that dynamically shapes itself to the wearer's foot.
For more information on the Cirque, visit KURU's website at: http://www.kurufootwear.com