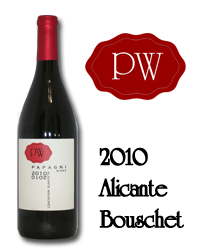 Madera, California (PRWEB) August 29, 2012
Madera Calif. – Papagni Wines wins more medals this summer at the international Long Beach Grand Cru wine competition at the Long Beach Petroleum Club. The 2003 Alicante Bouschet and 2011 Muscat Alexandria both win silver medals. The 2010 Alicante Bouschet was presented with a gold medal.
"We were excited to see the 2003 Alicante Bouschet and the 2011 Muscat be recognized at another distinguished wine competition. Having the 2010 Alicante Bouschet receive a gold medal gives us more incentive to keep on improving our wines to keep our family tradition of quality work going," said Demetrio Papagni.
The 2003 Alicante Bouschet dessert wine and 2011 Muscat Alexandria had already won silver medals at the San Francisco International Wine Competition this June. Only 95 cases of the 2003 dessert wine were produced. It has a nose of sweet, toasty black fruits and white pepper with soft tannins and a silky finish. It has aged for nine years in Papagni's Cellars.
The 2011 Muscat Alexandria Alexandria has aromas of fresh floral notes and just-picked grapefruit. Flavors of honey and apricot are balanced by a light acidity with a rounded and rich palate. The 2010 Alicante Bouschet has great depth and full bodied flavor. Concentrated aromas of blackberry, blueberry and cherry mingle with black pepper undertones. The Papagni family feels it is best paired with grilled steaks and hearty stews.
The Long Beach Grand Cru wine competition was established in 1995 to benefit the Legal Aid Foundation of Los Angeles. This non-profit organization provides legal assistance, important legal information and education to help low-income individuals to escape domestic violence, avoid homelessness, obtain food and health care for themselves and their children, defend their employment and consumer rights and move from welfare to work.
Guests are welcome to taste any of these wines at Papagni's brand new Madera wine tasting room in Madera, CA. Decorated with family memorabilia, this contemporary tasting room elicits a feel of warmth and hospitality. It is open weekends from 12p.m. to 4p.m. and weekdays by appointment.
Papagni Wines, formally Papagni Fruit Co, pride themselves on producing good quality wines made from new and traditional grape varieties grown in the Central Valley. For generations dating back to Bari, Italy, they have tended vines with great care. Now they craft award winning wines from the vineyards they look after. "Great wine is born in the vineyard, nurtured on the vine, and finished in a tradition tempered by skill and innovation," said Demetrio.