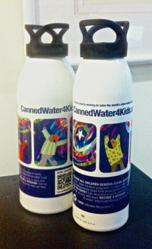 We are excited about supporting EWB University of Wisconsin Milwaukee on their water projects, said Gregory Stromberg, CEO/President & Founder.
Sussex, WI (PRWEB) August 30, 2012
Valued at over a two thousand dollars, CW4K will donate cans of their purified glacial spring water to help keep runners hydrated. The charity will also donate a large supply of their signature CW4K metal water bottles. Proceeds from the event will benefit Engineers Without Borders (EWB) and their efforts supporting international and local water projects.
The 5k run is slated for Labor Day, September 3, at Veterans Park, Milwaukee
The schedule is a follows:
7am to 9am: Packet pick-up and same day registration
10am: Race begins.
11am to 1pm: Refreshments and entertainment
Register at: http://www.active.com/running/milwaukee-wi/run-4-water-mke-2012
Website: http://www.run4watermke.org
In 2011, more than 100 student and professional chapters of EWB partnered with communities in 37 different countries to build a better world. CW4K CEO, Greg Stromberg said, "Thousands of people in developing communities are experiencing a higher quality of life as a result of these valuable partnerships. We're happy to be a part of it."
About CannedWater4Kids
CannedWater4Kids is a 501c3 charity based in Sussex, WI. The organization's mission is to bring clean, safe water to the children of the world who are currently without. CW4K funds it's initiatives with cash donations and sales of their premium spring water product. Of every dollar collected, 95 cents goes to support clean water programs. Recent efforts include sending water to Japan to aid in their post-earthquake water shortage, assisting the University of Wisconsin – Milwaukee's Engineers Without Borders in bringing water purification solutions to the highlands of Guatemala, supporting of a well/water tank project in Zambia, Africa, and the Bio Sand Filters project in Tanzania. To learn more, visit http://www.cannedwater4kids.org.