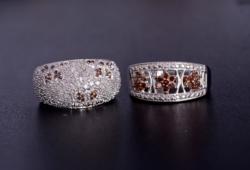 Austin, TX (PRWEB) August 30, 2012
Liquidation Channel (LC), a leading source of affordable rare and exotic gemstones, jewelry, and lifestyle products announces its Labor Day Promotions and September's Web Month Events.
Labor Day Weekend will feature an 8 hour London Blue Topaz show beginning at 12:00pm CST on Saturday, September 1st. The company's already popular Under $10 Day show will be broadcast all day on Sunday, September 2nd. In celebration of the holiday, Monday, September 3rd will be a 24 hour Diamond Smackdown. This event will feature a wide variety of prices and will be sure to include something for everyone. Shipping and Handling will be reduced to $1.99 beginning Thursday, August 30th through 11:59pm CST on Monday, September 3rd.
Web month (beginning at 12:00am CST on Saturday, September 1st and lasting through 11:59pm CST on Sunday, September 30th) is guaranteed to be filled with great deals. Not only will the company's website, http://www.liquidationchannel.com, have a fresh, new look, customers will receive 10% off all online store purchases. There will be special web only deals, and special online auctions featuring high dollar value items. All web purchases during this month will include reduced shipping & handling. Be sure to also look for the "Your Look Your Style" promotion on Facebook.
About Liquidation Channel: Liquidation Channel (http://www.liquidationchannel.com) is a global leader in direct sales of colored stones, diamonds, precious metals, and a variety of luxury goods and innovative products. Through a precisely and fully integrated system, the Liquidation Channel specializes in delivering exceptional quality, exquisite designs, and outstanding value, while providing a low-price guarantee on each of its products. The store's unique jewelry is available online at LiquidationChannel.com and on DirecTV Channel 226, Dish Network Channel 274, Verizon FIOS Channel 152, ROKU and local cable channels.