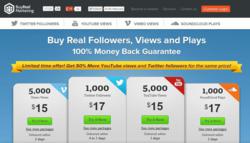 Ottawa, ON (PRWEB) August 30, 2012
Buy Real Marketing, the leading provider of web 2.0 business applications, conveys its disapproval over the series of death hoaxes that have been widely spreading these past days on Twitter. Buy Real Marketing Twitter followers following the official Twitter handle of the company @buyrealsocial have been a victim of misinformation and uncivil conduct of users who let on a number of tweets about the death of Bill Nye from "Bill Nye, The Science Guy", followed by celebrity comedian Bill Cosby, two days after.
As an internet marketing company that places high value to social networking websites and the people on it, Buy Real Marketing warns off Twitter followers who helped fan the fire of unverified deaths of famous personalities. The company believes that baseless information especially about someone's demise must not be tolerated. Reputable organizations must do their part into making Twitter a great online community by setting the records straight. Buy Real Marketing suggests that people should verify the legitimate sources of the news before any attempts at viral sharing.
Twitter is a great online network to share content and even snippets of people's daily lives and Buy Real Marketing has widely used this particular social network to connect to their Twitter followers through relevant and useful content from blogs. The company also feels that it is their responsibility as an information source to straighten out facts and relay the truth to the public.
"Buy Real Marketing puts more effort into providing clients the most relevant and up-to-date information that will prove useful and insightful to their goals. It is also our responsibility to discourage our Twitter followers, fans and clients from spreading unverified information disclosed on an informal and public platform like Twitter," explains JP Bisson, Managing Director for Buy Real Marketing.
Buy Real Marketing is a company specialized in web 2.0 applications and social media marketing providing start-up owners and small-time businesses the chance to boost online presence through social media. The services they offer include Twitter followers, YouTube views, Vimeo views and SoundCloud plays. Service packages come with a 100% Money Back Guarantee. Customer support is available 24/7 for questions and feedback in order to put customers at ease during purchase.
To know more about the company's services, visit their website at http://www.buyrealmarketing.com or contact them at 1-877-435-5955.
About
Buy Real Marketing is owned by Clicking Labs. Clicking Labs is a well-established internet marketing company founded in 2010 by Jean-Patrick Bisson, Diana Quartin and Jonathan Kennedy. The company specializes in driving search marketing and social media traffic, social web app development and conversion optimization. Each product or service specifically helps small/medium website owners increase online visibility and improve online sales.