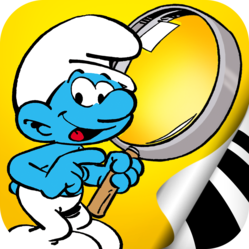 "One of the best family seek&find apps on the App Store!"
(AppKinderGarten)
(PRWEB) August 30, 2012
zuuka today released the Smurfs™' Hide and Seek with Brainy, a fun and challenging hidden object game for iPad, iPhone and iPod touch. Available now on the App Store, the Smurfs™' Hide and Seek features 12 unique scenes for the entire family to explore.
In the Smurfs™' Hide and Seek with Brainy, players search through vibrant and colorful hidden object scenes for items such as Brainy Smurf, caterpillars, and other smurfy objects. Players collect check marks to complete each section. If players become stuck they can sneak a few peeks to help them progress. The game's refresh option makes it easy for the entire family to enjoy.
"We are absolutely in love with this game!", Dirk Busshart, CEO of zuuka says. "Not only do children love spending time with Brainy and the rest of the blue crowd, they actually have to share the app with their parents who are equally hooked and challenged to find all hidden objects. 'Hide and Seek with Brainy' is simply great family fun!"
In addition to the Smurfs™' Hide and Seek with Brainy, two additional hidden object games are in the making and will put the spotlight on Hefty and beloved Baby Smurf. With this app series, zuuka, best known for their storybook apps, is expanding into the children's mobile games market with an educational twist.
Pricing and Availability:
'The Smurfs™' Hide and Seek with Brainy' App is available for $2.99 on the App Store for the iPhone, iPad and iPod touch or at http://www.itunes.com/appstore.
--------------------------------------
About zuuka
zuuka publishes zuuka Comics, iTalk and iStoryTime - an interactive storytelling experience delivered to the convenience of your mobile device - which features a series of illustrated and narrated books created by parents for kids. iStoryTime books have been highlighted in the New York Times, LA Times, CBS Early Show, theiPhoneMom.com, CNET and is decorated with Publisher's Innovation Award, PTPA Media's Parent Tested Parent Approved Seal of Approval, the Children's Technology Review's Editor's Choice Award and Reader's Choice for Best Apps for Kids. With over 200 products to choose from, including favorites such as The Smurfs, Puss in Boots, How to Train Your Dragon, WeeSing, Shrek and Kung Fu Panda, iStoryTime apps are excellent tools for both educating and entertaining children ages two years and up. These storybooks can be enjoyed in several different modes ranging from automatic to manual, depending upon the development and preferences of the user. For additional information, visit http://www.iStoryTime.com.
About IMPS
IMPS is the owner of the rights to produce audio-visual works based on the Smurf™ universe and of the Smurf™ worldwide licensing rights. IMPS is controlled by the heirs of Pierre Culliford, better known under his pseudonym Peyo, the author/creator of the Smurfs™. For 50 years, the Culliford family has controlled the Smurf™ characters and all licenses worldwide.