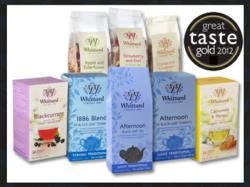 (PRWEB UK) 31 August 2012
Whittard of Chelsea have out-performed themselves once again at this years Great Taste Awards, picking up no fewer than 17 gongs and smashing last years record of 10 awards across their loose teas, fruit infusions and coffees.
Nine Whittard products were awarded one star, seven picked up two stars, and one of their best selling Ethiopian coffees, the Ethiopian Yirgachaffe, picked up a coveted three star award.
It took 350 experts 10 weeks to judge the 7481 products entered into the competition. Each item is blind tasted by up to 20 judges who must unanimously agree on a star rating before any of the esteemed prizes are announced.
The Great Taste Awards are often referred to as the 'Oscars of the food world' and are widely considered as the most trusted, highly regarded food and drink awards in the business.
Check out the full shortlist below and the judge's comments on each of the products. Key buyers, top retailers, producers, chefs and food critics all made up the judging panel, so if they say it's good it really is very good!
3 stars-

Ethiopian Yirgachaffe; "Good Yirgacheffe fruit, lighter well-roasted. Great peach flavour. "
2 stars-

River of Clouds Green loose tea; "A tiny amount of harshness. Good, twisted leaf. Not perfectly rounded - missing some core fruitiness, preventing the tea achieving a three star award."
San Agustin Colombian; "Some citrus, some nuttiness, good saltiness. Honest praline notes. Good darker roast."
Pu-erh black loose tea; "Good Pu-erh flavour, not in the least dirty. Leaves some freshness."
Himilayan Shangrila black loose tea; "The brisk, bright, amber liquor is refreshingly astringent with rounded malty flavour notes."
Apple and Elderflower Infusion; "A great summer drink, delicate and light without being thin. Great elderflower flavours."
Pelham Afternoon; "The Earl Grey and jasmine flavours work well together. The base tea is good and this is an interesting blend."
Camomile & Honey; "A good combination: has individuality and is well-balanced."
1 star-

Jasmine Pearls green loose tea; "Good liquor, tightly rolled leaf, good colour, good jasmine."
Afternoon blended loose tea; "Based on good quality leaves, this blend has good mouth feel and length of flavour, delivering rich, warm eucalyptus notes"
Chilli Mango flavoured black loose tea; "A theatrical blend, producing a well balanced combination of fruit and tea flavours."
Organic China Oolong loose tea; "Some good vegetal notes and baked flavours. This tea produces a liquor of good colour and great clarity."
Orange and Cinnamon Rooibos, "This works quite well with the cinnamon flavour - the length is good. Mellow and rewarding."
Strawberry and Kiwi Infusion, "Reminiscent of a strawberry mivvi! Light boudoir quality. A good 'girly' infusion with a long gentle finish."
1886 Blend, "Both malty and China tea character come through well. Some gentle smoke in evidence and the tea takes milk well"
Acerola Cherry, "Some gentle almond notes and good cherry flavours (although some of us did not like the cherry element). An honest tea."
Blackcurrant, "Clean and direct with good tartness. Well balanced blackcurrant."
So, whether you are looking for a 'great summer drink' like the apple and elderflower infusion, a 'girly infusion' that's 'reminiscent of a strawberry mivvi' like the strawberry and kiwi infusion, a more 'theatrical blend' from our chilli mango flavoured black loose tea, 'honest praline notes' from the San Agustin Columbian or the chance to try a 3 starred coffee with its 'Good Yirgacheffe fruit' and 'great peach flavour', Whittard has got it covered. It's official.