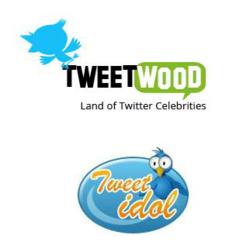 (PRWEB) August 31, 2012
Tweetwood, the leading portal of Twitter celebrities, acquired TweetIdol.in last month. The new site will help Tweetwood in expanding it's user base in India where Twitter is picking up rapidly. The acquisition adds a lot of value to Tweetwood as both portals have the same target audience. Through the deal, Tweetwood has gained access to the TweetIdol site, blog and its 10,000 facebook users. It also benefits from the SEO rankings that TweetIdol has achieved over a period of time.
Following celebrities on Twitter has never been easy. With Tweetwood, it's a piece of cake to follow top celebrities on Twitter. With 3100+ Twitter celebrities and counting, Tweetwood covers almost every celebrity present on Twitter .With Twitter getting popular, more celebrities are moving to Twitter to reach out to their followers. Tweetwood keeps adding new celebrities in it's database on a regular basis.
Tweetwood has sub portals for US, UK, Cananda and Australian Celebrities on Twitter. From Ricky Gervais to Amitabh Bachchan, Barack Obama to Justin Bieber, You will find almost all international twitter celebrities on Tweetwood.
Along with all the standard functionality users see on twitter, Tweetwood has a number of unique features that enhance the user experience many folds. Twitter Conversations make it easy for users to track and share conversations between celebrities on Twitter. Twitter trends give users a quick glimpse of what is trending among celebrities. Trends on Tweetwood are different from Twitter trends as they are based on celebrity tweets which is a better measurement of popularity.
Tweetwood is also available for download as a mobile app on Android and iPhone. The mobile app enables users to access tweets, photos and trends posted by their favorite celebrities in the most user friendly manner.
Tweetwood is developed by Manusis Technologies . Manusis specializes in building social networks, eCommerce portals and mobile applications. The applications developed by Manusis are cross browser, cross platform and use best coding practices and extreme programming guidelines. Manusis is responsible for building the back-end for some of the big sites like Gdgt, Designbyhumans, MyCelebrity to name a few. The agile Manu framework and state of the art ManuCMS help in rolling out big standards compliant sites quickly.