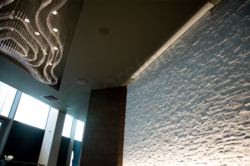 (PRWEB UK) 30 August 2012
Aspers Casino at Westfield Shopping Center, Stratford is the latest addition to the Aspers branch. The casino was opened less than a year ago and is right in the heart of East London near the Olympic and Paralympic sites. For those who didn't manage to get tickets for the Paralympics why not go along to the sky bar located in the casino, where there is a wonderful view of the stadiums and other games venues. The casino is simply stunning with interior that's to die for, defiantly worth a visit if you are in the area during the Paralympics.
Aspers Casino has beautiful stacked stone walls that create a chilled out vibe throughout the casino, mixed with their smart choice of furnishings; they have created the perfect space. The ivory stone panels are used in the relaxing lounge area and the arctic white stone cladding is used in the cocktail bar and the VIP room. The stone makes these spaces feel cosy, something that is usually difficult to achieve in large areas of space. Norstone are the company behind these stunning stone walls.
Norstone provide high quality natural stacked stone for stone wall cladding. They welcome all kinds of projects, no matter how big or small, from homeowners to corporate business owners, there is a solution for everyone. Stone wall cladding makes a great feature wall, it is simply beautiful and can change the complete look and feel of a room. Norstones aim is to create beautiful stone walls that look as though a stonemason has spent months individually placing the stone pieces together.
Stone wall cladding originates from hundreds of years ago, in recent times stone walls have become fashionable and are now appreciated for their natural beauty. Norstone have taken the traditional style of stacked stone wall and made it contemporary, the contemporary style of these walls is what makes them so appealing, its not hard to see why Aspers Casino chose to add stone walls in parts of their casino.
If you want to find out more about stone wall cladding you can visit Norstones website where you can find more information, alternatively get in touch via phone or email.