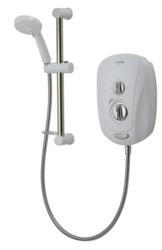 (PRWEB UK) 29 August 2012
Whether it's seeking out new cycle routes, taking to the waves or even heading off to the local stables, there's one thing most people relish after an hour or two's sporting efforts – a refreshing shower! British manufacturer Gainsborough Showers are celebrating the summer of sport with their new GSX range of electric showers, with special introductory prices currently starting at just £79.99 until 23rd September.
Great for Busy Households
Gainsborough's new range of electric showers is perfectly suited to the requirements of those needing a refreshing shower, and quickly. This is because electric showers heat mains cold water on demand, providing a revitalising shower at any time of the day. They place no demand upon a household's hot water system making them ideal for large families. There are three models in the GSX range; the GSX, GSX Plus and GSX Deluxe, each supplied with an 8.5kW engine, the most popular engine choice of Gainsborough customers. Each model has four heat settings, including a full cold setting – perfect for the ultimate cool down after exercising.
Simple Installation
Installing one of Gainsborough's new showers is a straightforward job for any qualified plumber – and they are a great way of giving a bathroom an instant facelift. With top, bottom and rear (on right hand side) water and cable entry points, Gainsborough's new GSX range of electric showers are an ideal solution for showering refurbishments or upgrades. Alternatively, they are ideal as secondary showers, for example in an ensuite or downstairs cloakroom.
Safe and Easy To Use
Yet another bonus of opting for an electric shower is ease of use. After all, nobody likes to grapple with awkward controls when they've just completed a marathon cycle, spent a couple of hours in the pool or completed a spinning class.
Gainsborough's GSX range couldn't be simpler or more user-intuitive – even for little fingers. Whether simple rotary controls or push button functionality is preferred, there will be a GSX shower to suit. A sophisticated LCD display indicating heat setting and temperature can be found on the top-of-the-range GSX Deluxe, whilst LED lights can be found on all of Gainsborough's new GSX electric showers, providing a reassuring visual aid for children or older users. All showers in the range benefit from low pressure warning indicators, which notify users in the event of any water supply issues, as well as power-on LEDs. Each shower is supplied with a shower head with three spray patterns to choose from, and an audible 'click' is emitted when a spray pattern is changed to enable users to select a pattern easily and with confidence.
Upgrade to the GSX Plus or Deluxe and additional safety features include an intelligent heat setting switch down, which automatically operates if the temperature detected is too high, protecting users against excessively high water temperatures; and a phased shutdown safety feature, which flushes residual hot water after the shower has finished, to protect the next user by ensuring all hot water is removed. This feature also helps to prevent limescale build-up, prolonging the life of the shower.
Stylish Designs
Designed to complement contemporary and traditional bathrooms alike, Gainsborough's new GSX electric showers are finished in stylish, bright white, with chrome and white detailing, dependent upon the model chosen. All Gainsborough GSX electric showers offer a 2 year parts and labour guarantee and free next working day delivery. And whilst it's now possible to pop a shower into the shopping trolley along with the rest of the week's groceries, it's still worth the peace of mind and reassuring aftersales support that comes from buying a shower directly from the manufacturer, such as Gainsborough.

The Gainsborough GSX range of electric showers currently starts at just £79.99, which includes VAT and FREE next working day delivery.
Introductory offers will be running until 23rd September 2012
Visit http://www.gainsboroughshowers.co.uk to buy online securely and quickly