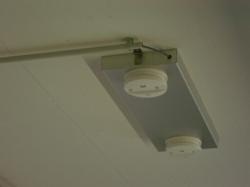 (PRWEB UK) 31 August 2012
Oakpark Alarms are proud to announce the certification of the DSPA fire suppression system for which they are the appointed distribution agents throughout the Central Southern Counties of England on behalf of DSPA.UK Ltd.
Following an exhaustive eight months of testing and examining, the DSPA products have now been certified to comply with the following international standards;
CEN-TR15276-1:2009, UL2775 , ISO/DIS15779-1 and BRL K23001/04
The testing program was overseen by KIWA, the internationally recognised certification organisation covering the entire process from manufacturing through to the installed fire protection system.
The certification of the DSPA system means that architects and other fire protection system specifiers have access to a totally new form of fire suppression within the UK, offering real advantages compared to the gaseous and sprinkler systems available previously. Already used extensively on the Continent including by such clients as Scholberg AG, the Swiss Red Cross and The Swiss Postal Service, this latest certification clears the way for DSPA to make similar inroads in the UK Fire Suppression Equipment market and has already been used in the Olympia and Earls Court Exhibition Centres.
With no invasive installation requirements, pressurisation or storage needs, DSPA is a total Fire Suppression System offering the most cost-effective solution for protecting valuable business assets.
Compared to traditional products, DSPA offers the following advantages.

No pipe work - so can easily be retrospectively installed with little or no disruption.
No pressure or storage problems - saving on maintenance and space requirements.
Non-corrosive and non-conductive - totally harmless for computers and PCB's.
Non-toxic, harmless to humans and animals-no more integrity tests for your server rooms!
Much reduced cost - compared to traditional products, installation times are drastically reduced, resulting in substantial cost savings.
For more information on how this product will enable you to meet your Fire Protection needs more simply and cost effectively than traditional products, please contact OAKPARK on 01202- 827776 or by e-mail at enquiries(at)OakPark.co(dot)uk
Full details of the DSPA product can be found on the DSPA website.