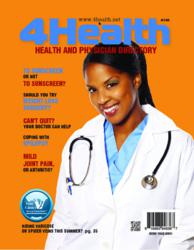 We bring health care information to the people who need health care
Brooklyn, NY (PRWEB) August 29, 2012
In response to the need for more accurate and accessible healthcare information, MOO Publishing Corporation - a leading provider of health-relate d news, information, and medical directories - announces an expanded distribution of the 4Health™ Magazine. The magazine will now be regularly distributed in New Jersey, Pennsylvania and Massachusetts.
The expansion will provide more readers with no-nonsense, up-to-date information on local health specialists and current issues like obesity, heart disease, cancer, preventative medicine, as well as beauty, style, exercise, sex and relationship tips - information critical to making important choices about personal health care and a healthy lifestyle.
"We bring health care information to the people who need health care," said MOO CEO Dmitriy Khabinski. "We have continuous distribution into 3,000 medical offices across the region with magazines also placed in 600 pharmacies and 14 hospitals. There are more than 100 street vending boxes in the area as well."
A full-color publication, 4Health encourages people to live health while providing quality communication between patients and doctors. Articles are written by physicians, researchers and the magazine staff. Trends, new research and new medical procedures are discussed along with healthy living tips and an occasional health myth-busting article.
MOO Publishing Corporation, a leading provider of health-related news, information, and medical directories. For medical providers, 4Health offers unique services: A call-tracking program with a customized toll free number. Detailed physician directory and more.
For information and for online articles, see http://www.4health.net
To obtain advertising information, please call 1-800-435-0755, or e-mail at info(at)moopublishing(dot)com.