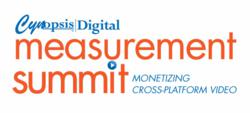 "Cynopsis Digital's Video Measurement Summit is designed to answer everybody's top questions about video advertising, namely, what are the best media buying strategies and how do I know I'm getting full value for my digital dollars?" -Denise O'Connor
New York, NY (PRWEB) August 29, 2012
Cynopsis Digital, the premier daily publication for digital decision makers, will hold the Video Measurement Summit, Monetizing Cross-Platform Video, on November 14 in New York City. The event brings agency executives, including media buyers, planners and brand managers as well as network, studio and content executives together with experts in digital audience research and ad tech. This conference will offer fresh perspectives and ideas on audience metrics, digital delivery and deciding ad rates.
Speakers from Nielsen, ComScore, Adap.TV, StarcomMediaVest, VideoHub (a division of Tremor Video,) the International Academy of Web TV and many others will reveal best ways to reach audiences online and over mobile devices, and to build the best ROI on digital video ad buys.
"Cynopsis Digital's Video Measurement Summit is designed to answer everybody's top questions about digital video advertising, namely, what are the best media buying strategies and how do I know I'm getting full value for my digital dollars?" said Denise O'Connor, group publisher of Cynopsis Media.
The Summit will be held at JWT in midtown Manhattan and include an informal lunch and a cocktail reception. For details, please visit http://www.cynopsisdigitalsummit.com/.
For questions about registration or for media interviews, contact Jenn Sredzinski at jenn(at)cynopsis(dot)com or go to http://www.cynopsisdigitalsummit.com/.
For advertising or sponsorship information, contact Vice President of Sales and Marketing, Mike Farina at mike(at)cynopsis(dot)com.
Cynopsis Media is a division of Access Intelligence LLC. The Cynopsis Media family of products includes Cynopsis, Cynopsis: Digital, Cynopsis: Kids and Cynopsis: Sports daily e-publications, weekly Cynopsis: Classified Advantage e-publication, Special eReports, Event/Summits and a strong database of Classifieds and more. Visit cynopsis.com.
###