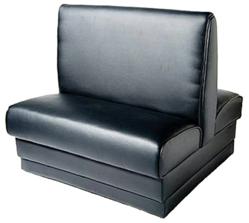 (PRWEB) August 31, 2012
Leading commercial furniture manufacturer and distributor Restaurant Furniture Supply has announced that it is producing a new line of restaurant booths made in the USA.
Restaurant Furniture Supply offers a wide variety of options for custom booths, made to the customer's specifications, as well as Quick Ship Booths available in standard options at sale prices and ready for expedited delivery.
Restaurant Furniture Supply decided to produce this line of made in the USA booths as part of a commitment to provide its customers with the best quality products possible. The majority of restaurant furniture on the market today is manufactured in China. It does not undergo the stringent weight and quality testing that American made products are subject to. Mass-produced furniture is appealing to many due to its price, but actually has been proven to cost restaurateurs more money in the long term. Hand-crafted restaurant furniture, designed specifically for commercial use, lasts longer than imported furniture, saving customers money, time and headache.
These booths come in a number of back choices, such as 3-channel back, v-shape back, button tufted back and many others. The upholstery for Restaurant Furniture Supply's booths is available in a vast array of vinyl and fabric choices. Custom booths can be manufactured in any size or shape to fit a multitude of different venues. Round booths, corner booths, 3/4 booths and other custom shapes take about 6 to 8 weeks to manufacture. For those who wish to have their booths on hand in a more timely fashion, Quick Ship Booths are available for delivery in 7-14 days in standard options. Patrons also have the option of choosing from Restaurant Furniture Supply's selection of vinyl and fabric upholstery colors or providing their own custom upholstery choice.
Restaurant Furniture Supply employs an experienced sales staff that is expert in advising restaurateurs what booths are right for a given establishment. At restaurantfurnituresupply.com there is also a Help Center page which features guides and tools to help restaurant owners determine issues of layout and provides tips for choosing the right restaurant furniture. The Help Center has a Booth Space Calculator, which helps restaurateurs figure out how many and which type of booths they can fit in their space. The Help Center also provides an Interactive 3D Booth Tool which allows users to apply style and upholstery specifications with a click of the mouse to create a three-dimensional representation of their booth.
Booth seating provides a number of advantages over other seating options. Booth layout options are flexible, allowing restaurateurs to maximize their space, booths are convenient and easy to maintain, and most importantly, customers love booths. Booths provide patrons an unparalleled level of both comfort, and privacy. Custom made booths give restaurant owners looking to furnish or remodel an establishment a level of control over their design that other seating options do not provide.
Furniture for use in hospitality industry establishments, such as restaurants and bars, is nothing like furniture for home use. The wear and tear that everyday commercial use puts on furniture necessitates a certain level of workmanship. Restaurant Furniture Supply's line of made in the USA restaurant booths is the type of well-made furniture that can stand the test of time under busy commercial conditions.
To view Restaurant Furniture Supply's line of made in the USA restaurant booths or to browse its selection of restaurant furniture visit http://www.restaurantfurnituresupply.com or call a customer service representative at (888) 346-9992.