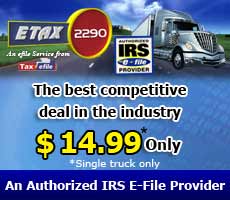 (PRWEB) August 29, 2012
The IRS has recently announced that they have released an extension of time to file Form 2290 for the 2012-2103 filing season. Form 2290 is usually due by August 31st, but that due date has now been extended to September 7th. This extension comes at a critical time for all 2290 filers. With only a few days left to file, the IRS and Etax2290 urge filers to submit Form 2290 at the earliest convenience. Etax2290 is an IRS Authorized E-file provider, and works hand in hand with the IRS to provide an easy to use, quick and efficient e-filing system for filers across the nation.
The recent extension is due to upcoming Labor Day weekend. The IRS will be shutting down the e-file servers for routine maintenance on Friday, August 31st at 3 PM EST. All filers who have not submitted prior to 3PM, Friday, August 31st will have to wait until Tuesday, September 4th to begin submitting once again. This means that if a filer misses the Cut off on August 31st, they will only have a window of 3 days to submit a Form 2290 before the IRS will consider the submission late. Remember all late filing can incur a penalty from the IRS.
Etax2290 will continue to take submission over the Labor Day weekend period, but due to the IRS servers being shut down no Stamped Schedule 1's will be issued until September 4th when the e-file servers are brought back online. Etax2290 encourages all filers to file before 3PM, August 31st if possible. Etax2290 provides an easy to use e-file service with 24-7 chat support, and live US based customer support. For more information visit Etax2290.com or start filing today!