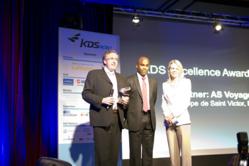 Randolph Mcfarlane, New Business Solutions at Visa Europe: "this conference provides a unique opportunity to engage with the marketplace and see what is happening in the Travel & Expense world."
London, Paris (PRWEB UK) 29 August 2012
Leading travel and expense (T&E) management solution provider KDS has announced the opening of registration for the company's third annual Travel and Expense Conference in Paris: KDS Now! 2013.
KDS Now! has grown to become the leading European event dedicated to Travel and Expense. In 2013, KDS Now! will address concerns of procurement and travel executives with topic such as duty of care, passenger tracking and rogue spending.
For Philippe Berger Head of CoE Support Services ArcelorMittal, KDS Now! is "a great event attended by many peers. It is a great place for networking."
Randolph Mcfarlane, New Business Solutions at Visa Europe adds that, "this conference provides a unique opportunity to engage with the marketplace and see what is happening in the Travel & Expense world."
In 2013, KDS will be launching it complete door-to-door travel booking solution: KDS Neo. In just three screens, two clicks and one minute users will book their complete door to door and travel and expense journey.
Speaking of KDS's revolutionary approach to online travel and expense, leading Travel Industry Commentator, Scott Gillespie said "With Project Neo KDS is certainly a step ahead in the market place. KDS redefines the booking experience with Project Neo. It is a bold and long awaited move."
In February 2012 KDS Now! attracted an international audience of 550 delegates.
KDS Now 2013, will take place on January 31, 2013 in Paris.
Information:
Registration is free but places are limited. Book now to avoid disappointment.
Venue: KDS Now! will take place in the heart of Paris next to the Champs Elysées on 28 Avenue George in Paris, France.
Agenda is available online
About KDS
KDS (http://www.kds.com) is a leading international provider of Travel & Expense (T&E) management systems for private and public sector organisations. The KDS unified Software-as-a-Service (SaaS)-based technology addresses the full range of T&E requirements, from travel policy definition and enforcement, and the online self-booking of travel, through to automated travel expense processing and invoice reconciliation. With each stage handled seamlessly by the KDS fully-integrated technology, clients achieve significant efficiencies and cost-savings. KDS offers the most extensive back-end connectivity to financial service and travel providers (airline, car, rail and hotel), ensuring optimised pricing and up-to-the-minute inventory control.