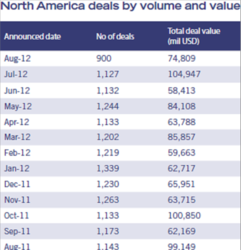 While it's disappointing to see a drop in the figures this month, it is also understandable given the time of year, which is often quieter for deal activity.
New York, NY (PRWEB) August 30, 2012
The volume and value of deals targeting companies based in North America both dropped in August, as the holiday season – traditionally a quieter time for M&A activity, particularly in Western countries – takes effect.
A total of 900 transactions worth a collective USD 74,809 million were recorded for the month, which in monetary terms was a 29 percent decrease on the USD 104,947 million achieved in July and 25 percent lower than the same time last year, when USD 99,149 million was recorded. Volume dipped 20 percent from 1,127 to 900 transactions, and was 21 percent less than the 1,143 deals recorded in August 2011.
Lisa Wright, Zephyr director, said: "While it's disappointing to see a drop in the figures this month, it is also understandable given the time of year, which is often quieter for deal activity. Taken in context for the year so far, deal value both for M&A and private equity are healthy, and hopefully will continue to be so."
The downward trend in volume and value across the region was also reflected in the constituent countries. In the US, 690 deals worth a combined USD 68,851 million were signed off, as against 852 transactions worth USD 78,878 million last month. The figures were also down on a year ago, when 862 deals worth USD 92,670 million were recorded. Canada fared even worse, as value plummeted 77 percent month-on-month from USD 26,069 million to USD 5,957 million. Volume slid by 24 percent from 276 to 210 transactions.
Private equity value also suffered a hit in August. A total of 247 transactions worth a combined USD 12,917 million were recorded, which in monetary terms was 40 percent less than July's USD 21,380 million and by volume was down 23 percent on the 320 deals recorded the previous month. However, by value the figure is roughly comparable to the same time last year when USD 11,906 million was recorded, illustrating the fact that August tends to be a quieter month in terms of deal activity. Again, this regional trend was mirrored nationally, as both the US and Canada experienced a downturn in private equity investment during August, the effect being more pronounced in the latter.
The USD 3,300 million buyout of stock photo company Getty Images by Carlyle Group was the month's highest value deal. This was closely followed by Advent International's purchase of AOT Bedding, worth USD 3,000 million. Also surpassing the USD 1,000 million-mark were two more buyouts – the acquisition of software developer Deltek by Thoma Bravo for USD 1,100 million, and Clayton, Dubilier & Rice's purchase of a 51 percent stake in Illinois Tool Works' decorative services division worth USD 1,050 million.
To access the full August 2012 North America M&A report and other M&A Reports from Zephyr, please visit mandaportal.com
About Zephyr
Zephyr is an information solution containing M&A, IPO and venture capital deals and rumors with links to detailed financial company information. Zephyr covers various deal types including M&A activity, IPOs, joint ventures and private equity deals. It's published by Bureau van Dijk (BvD). The deals on Zephyr are linked to the company financials and peer reports on BvD's product range, which includes Orbis, Amadeus and Fame, for company valuation and benchmarking.
Zephyr contains information on over 970,000 deals. Approximately 75,000 deals are added each year depending on levels of deal activity. Zephyr has no minimum deal value. All deal information is translated into English. Zephyr's UK-based researchers speak 35 languages and use native language and English sources in their deal enquiries. http://www.zephyrdealdata.com
About M&A Portal
The M&A Portal is a resource for anyone interested in M&A Deals intelligence and information. We host M&A news, deal commentary, features and research papers written by experts across the globe. http://www.mandaportal.com
About Bureau van Dijk
Bureau van Dijk (BvD) is one of the world's leading publishers of electronic business and company information. The company has 33 offices worldwide. BvD is best known for its range of international company information products that combines multiple high-quality data sources with flexible software to allow users to manipulate data for research, marketing intelligence and analysis. Products include Fame, Orbis, Amadeus, Bankscope, Isis and Osiris. BvD also publishes the global M&A database, Zephyr. http://www.bvdinfo.com