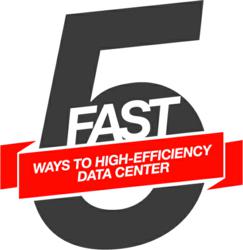 We recommend that IT leaders focus on specific improvements they can make within their existing data centers that can yield the greatest technological impact in their organizations.
Farmington Hills, MI (PRWEB) August 29, 2012
For most organizations, the data center represents the heart of their technology infrastructure. And just like the hearts of the staffers working there, the data center requires a certain amount of exercise to keep it strong, healthy and performing at peak condition. To help IT professionals improve the performance of today's data center in their organizations, Logicalis, an international IT solutions and managed services provider, has developed a checklist of the "Fast Five Ways to a High-Efficiency Data Center" along with a microsite devoted to discussing the best practices and technologies involved. In addition, Logicalis is hosting a Fast Five Live Video Stream series designed to show IT professionals the top five secrets to a high efficiency data center and how to get theirs running at peak performance. In these short, interactive events, IT professionals will hear what experts have to say, get peer perspectives from organizations like theirs, get a live look at high efficiency data centers, and then have a chance to ask questions via live chat. More information about these exclusive events and pre-registration is available at http://www.dcFast5.com
According to Gartner analysts Rakesh Kumar and Lydia Leong, "Demand for business agility is pushing organizations toward data center solutions that have greater flexibility, enabling them to expand or contract their data centers according to business needs."*
The Fast Five Ways to a High-Efficiency Data Center
"We recommend that IT leaders focus on specific improvements they can make within their existing data centers that can yield the greatest technological impact in their organizations," says Bob Mobach, practice director, data centers, for Logicalis.
1. Implement strategies for sun-setting technology. Straggler hardware, legacy apps and their antiquated operating systems exist in astonishing numbers within every organization. Almost every data center that's five to 10 years old deals with systems that waste energy and cost many times more to operate than they may be worth. Creating sun-setting technology roadmaps for removing, replacing or upgrading these apps and hardware is the key.
2. Rationalize the data center network. For many organizations, the corporate network is supporting other things than the data center. Storage Area Network (SAN) and Local Area Network (LAN) resources are separate and disparate. IT professionals must review their network design in the data center with experts able to ensure it is built to run in a modern data center operating model. This should include support for Wide Area Network (WAN), Network Attached Storage (NAS) as well as LAN and SAN resources. And it must include the proper redundancy to support a 24/7 data center operation. Rationalization can also mean an in-depth review of data center distribution models and creating zones following new Industry standards to optimize cabling and networking efficiency.
3. Optimize the data center. IT professionals should ask whether their data center is running at optimum performance and energy efficiency. They should consider advanced passive containment options for airflow, cabling and cooling that will streamline efficiency, maximize usage of current capacity and better manage the data center environment. Uninterruptable Power Supply (UPS) efficiency, passive cooling containment and various free cooling options should all be considered.
4. Move strategic aspects of the data center environment to a cloud model. Leveraging cloud-based technologies to offset cost and create more agile business-oriented IT delivery models should be on the top of every IT manager's interest list.
5. Outsource for efficiency with managed services and IT automation. Mundane tasks are part of many IT administrators' everyday lives. Many times these tasks include things like backup management, LAN and WAN management or operating system (OS) level management. Many of these manual operations take valuable time from the IT department that could be invested in focusing on core objectives and client business delivery. Automated toolsets and remote, industrialized and repeatable management options can drastically improve efficiency in the data center and help reduce operational expense.
"The reality is that every IT organization has some type of traditional infrastructure and software delivery models they must contend with," says Mobach. "Logicalis has created a consulting framework to help our clients determine what's most essential and how to best shape a roadmap to drive toward a leaner delivery model leveraging cloud technology to meet their specific business requirements."
About Logicalis
Logicalis is an international IT solutions and managed services provider with a breadth of knowledge and expertise in communications and collaboration; data center and cloud services; and managed services.
Logicalis employs almost 3,000 people worldwide, including highly trained service specialists who design, specify, deploy and manage complex ICT infrastructures to meet the needs of over 6,000 corporate and public sector customers. To achieve this, Logicalis maintains strong partnerships with technology leaders such as Cisco, HP, IBM, CA Technologies, NetApp, VMware and ServiceNow.
The Logicalis Group has annualized revenues of over $1.2 billion, from operations in the UK, US, Germany, South America and Asia Pacific, and is fast establishing itself as one of the leading IT and Communications solution integrators, specializing in the areas of advanced technologies and services.
The Logicalis Group is a division of Datatec Limited, listed on the Johannesburg and London AIM Stock Exchanges, with revenues of over $5 billion.
For more information, visit http://www.us.logicalis.com.
Business and technology working as one
Facebook: http://www.facebook.com/Logicalis?v=wall
Twitter: http://twitter.com/logicalis
RSS: http://www.us.logicalis.com/feeds/rss.aspx
YouTube: http://www.youtube.com/user/LogicalisIT
Blog: http://www.hypeorripe.com/