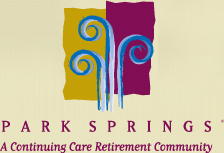 Moving into senior housing is a major lifestyle decision and making this decision is often shared by the seniors' adult children.
Atlanta, GA (PRWEB) August 30, 2012
On Saturday, September 15 from 8:30AM – 2:00PM, Park Springs, Atlanta's premier continuing care retirement community, will host a symposium for area seniors and their families, including lunch and refreshments. Local and national experts will speak on healthy aging, brain fitness, finances, retirement housing options, understanding Dementia and Alzheimer's, and more. 'Changing the Way We Age & Planning for the Future' is Park Springs' first such symposium for members, potential residents and their adult children, and is slated become an annual event.
"Moving into senior housing is a major lifestyle decision and making this decision is often shared by the seniors' adult children," notes Kevin Isakson, Director of Sales and Marketing at Isakson Living, the developer that built Park Springs. "We offer professional insight and helpful information to guide all parties during this process, and we are bringing together a number of experts to share their perspectives."
Laura Keyes, Community Development Manager, Aging Services Division at the Atlanta Regional Commission, will open the event with her presentation, Trends in Senior Living That Impact Our Families, addressing questions such as 'Where and how is our population growing?' and 'What lifestyle trends are we seeing for the aging population?'
Four hour-long break-out sessions will follow, and participants can select two sessions based on this schedule:
10:00 – 11:00AM

Insights on Healthy Aging and Brain Fitness, presented by Lois Ricci, nurse/educator at the Institute of Gerontology at UGA;
Navigating the Road Map for the Future, by Ken Mitchell, former State Director for AARP of Georgia;
11:15AM – 12:15PM

Understanding Memory Loss, Dementia and Alzheimer's – presented by Tom Silveria, Altanta Alzheimer's Association;
As Our Family Ages…What Are Our Options? by Liz Bush, Life Care Services.
From 12:30-1:30PM, a lunch and panel discussion featuring Park Springs members and the presenters will take place, followed by a closing presentation about what makes Park Springs 'the Wise Choice' for seniors and their families.
The symposium will be held in the Park Springs Clubhouse Community Room. For more information or to RSVP for the '2012 Park Springs Symposium' call (678) 684-3483 or visit ParkSprings.com.
ABOUT PARK SPRINGS:
Park Springs (completed in 2007), a 54-acre campus style Continuing Care Retirement Community (CCRC) surrounded by Stone Mountain Park, is a vibrant community of active adults 62 and above who live in spacious private homes and enjoy a club-inspired lifestyle. Park Springs includes 398 Independent Living Units; Health Center with 24 SN beds, 12 Dementia beds and 28 AL suites; Clubhouse with variety of dining options and common areas; and Fitness Center with lap pool, therapy pool and exercise room. Members live in a detached single-family home, cottage home or condominium-style villa. The community provides food and beverage services in diverse settings and many social, educational and enrichment opportunities.
Residential options offering a higher level of services and care are also available on campus. These include home health, assisted living suites, memory care or our Medicare-certified skilled nursing and rehabilitation center within Cobblestone at Park Springs. As situations change, Members can move into the type of home or environment that best meets their needs.