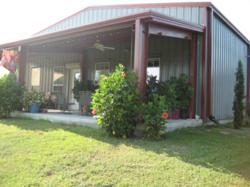 "Fortunately we were in it when Hurricane Ike hit…the building was engineered for sustained winds of 140 mph. We had no problems whatsoever."
(PRWEB) August 29, 2012
With Hurricane Isaac making landfall in Louisiana, there is immense focus on hurricane preparedness. The gulf coast took extensive measures to be more prepared this time around. In New Orleans the levees that buckled under the storm surge from Hurricane Katrina in 2005 have been rebuilt, stronger than before. Since 2005, new construction in the area must now conform to stricter building codes and guidelines.
Architects and engineers are able to use their firsthand knowledge to design a structure for harsh weather conditions. Mitch Bagger, Building Services Manager at Allied Steel Buildings said, "These days there are strict requirements for high wind ratings on any openings on a pre-engineered steel building. When Allied designs a structure in a hurricane zone, we work closely with the clients to determine the safest possible design to protect their investment. We take into consideration many factors including exposure which focuses on the building location and design against wind gusts, to influence final design decisions.
Those design decisions should also include options that go beyond the code minimum such as a 24 gauge panel as opposed to 26 gauge and wind rated glass windows. Bagger mentioned, "Sure they both may cost you slightly more than standard material but you'll definitely gain piece of mind knowing your building design exceeds the codes."
Many gulf coast residents were able to ride out Hurricane Isaac in their homes, while others were under a mandatory evacuation. When weathering a hurricane, it is important to seek shelter in a resilient structure above sea level. Hurricane shutters, are a great option to avoid unnecessary wind damage. Galvanized steel hurricane shutters are very similar to the 24 gauge PBR panel used for Allied Steel Buildings, they are far superior to the 5/8 plywood sheets often seen covering windows when fierce storms strike.
Gary Menke was in Sante Fe, Texas during Hurricane Ike in 2008. When the tropical cyclone struck, his family took shelter in his 2,920 sq. ft. prefabricated home supplied by Allied Steel Buildings. He said, "Fortunately we were in it when Hurricane Ike hit…the building was engineered for sustained winds of 140 mph. We had no problems whatsoever."
Pre-engineered steel buildings can be a safe place to seek shelter during intense storms with durable components able to withstand adverse weather conditions. In 2005, Nicholas Mugnano of Gennaro's Farmers Market realized the strength of his Allied Steel Building after Hurricane Wilma devastated parts of South Florida with wind speeds in excess of 120 mph. He said, "Our [composite] building took a beating, disfiguring parts of the exterior and opening up the roof. We had to repair the rood immediately in order to stay in business. The steel building that Allied provided for us took the hurricane winds like a champ, not a scratch on the building!"
About Allied Steel: Allied Steel Buildings is a leading supplier of pre-engineered steel buildings and prefabricated metal buildings systems. Allied Steel Buildings offers exceptional prefab metal structures with outstanding customer service, committed to assisting you through each step of the process. Our projects have been completed around the world, with a concentration in the USA, Canada and Island Nations. For assistance from our Project Managers, including design services and expert tips call 877-997-8335.