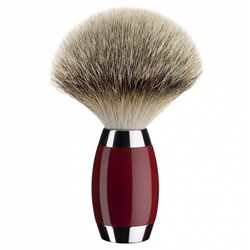 Toronto, Canada (PRWEB) August 30, 2012
When it comes to safety razors, Muhle from Germany, which was founded in 1945, stands alone in its class. That's why Canadian online retailers are happy to welcome five newly released double-edge razors, which make perfect gifts for men, from this European manufacturer.
Also from Muhle comes a special edition shaving brush that features a Chinese lacquer handle and silver-tipped badger-hair bristles; it is among the most extraordinary shaving and grooming gifts for the man who has everything. Though this item is not yet available for purchase at the manufacturer's site, it can already be bought locally in the Toronto area through select online stores, such as Fendrihan.com.
Two luxurious Muhle Purist shaving brushes equipped with briar wood or black buffalo horn handles round out the latest items from this reputable company.
From Joris, France, there is the addition of the Odyssey shaving safety razor with a yew wood handle, to round off a line that already boasts handles made of other precious woods or natural horn, as well as gold and palladium finishes.
The Plisson-Joris line of shaving brushes, known for their European white badger-hair bristles, has also been expanded to include a greater variety of sizes.
About Fendrihan:
Fendrihan Ltd is a Candian-based vendor that supplies elegant gifts for men as well as fine shaving and grooming products from all over the world. With a range of products that is constantly growing and expanding, it is no surprise that Fendrihan has an international following. The addition of several high-end luxury shaving products serves to complement the already impressive selection available at this online retailer.The Fendrihan compendium also includes standout European leather accessories offering the organization and clever convenience demanded and appreciated by their customers.