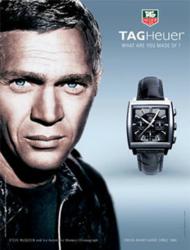 A watch that's over 20 years old will very likely hold its value better than many other items on the market.
(PRWEB) August 31, 2012
A Tag Heuer watch worn by Steve McQueen in the movie 1971 Le Mans was sold at the 'Profiles in Hollywood' auction on the 31st of July for a record sum of $799,500 (£505,000). This princely sum is to make the vintage Tag Heuer timepiece the most expensive watch ever sold on the basis of a Hollywood connection, despite the model itself not being known as a huge success before Steve McQueen gave it his fashionable seal of approval.
In the 21st century, a wide range of vintage watches are selling for record sums of money across the world. A Rolex Submariner was recently sold at auction for $66,100, having originally been listed on auction site eBay for just $9.99. This particular model commanded such a large sum thanks to its links to 'Superman' actor Christopher Reeve.
With the Chinese market becoming ever-more influential in the watch world – it's estimated that 30% of successful bidders at luxury watch auctions are Chinese – the time is now to capitalise on the value of vintage timepieces. It's thought that many people may be holding onto watches as heirlooms, unsure of their worth. A watch that's over 20 years old will very likely hold its value better than many other items on the market.
Watches of Switzerland specialise in valuing, repairing and reselling watches that have vintage appeal. Every month the retailer selects one pre-owned watch to feature on its website, for example the Omega Driver's Chronostop, which has been restored to pristine condition by an American specialist. The full selection of pre-owned watches are available to view in person at Watches of Switzerland stores at the New Bond Street, Oxford Street, Knightsbridge, Edinburgh, Glasgow, Cardiff, Manchester, Birmingham and Brighton showrooms.
Owners can bring their vintage watch models in to Watches of Switzerland for a personal valuation with a luxury watch specialist. Watches of Switzerland offer a full repair service and have strong working relationships with the best craftsmen in the business.
Watches of Switzerland keep their customers informed on the latest trends and discoveries in the world of luxury watches through their twice-yearly magazine Calibre. Watches of Switzerland pride themselves on a shopping experience that pays as much attention to detail as the Swiss watchmakers they represent. You can find Watches of Switzerland showrooms in several London locations, Brighton, Manchester, Birmingham, as well as Edinburgh and Glasgow.
Visit the website for a full list of showrooms: http://www.watches-of-switzerland.co.uk.