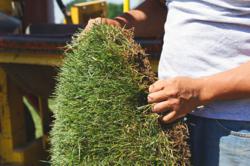 The new farm's website has features that are much more cooperative than the weather.
Indianapolis, IN (PRWEB) August 31, 2012
While Meridian Sod Farm waits for Indianapolis' watering ban to be lifted so it can get down to the work of cutting and delivering turf, the new business is moving forward in other ways. It recently launched its website, meridiansod.com, and is blogging to its visitors with updates on the drought and how it is affecting the local landscaping industry.
"What is frustrating to many is according to national drought experts that Indiana's drought severity is slightly improving," writes Kevin Yurs, president of Meridian Sod Farm, in a blog posted on Aug. 28. "Meanwhile, Meridian Sod Farm's Kentucky Bluegrass mature sod has significantly improved since late July. As cooler temperatures continue, the root system will continue to strengthen and improve."
While Yurs can continue to grow and sell sod, watering the sod after it is installed falls under the Indianapolis watering ban, so his business is significantly affected.
The farm's new website, created by Silver Square Inc. in Carmel, Indiana, has features that are much more cooperative than the weather. Through responsive website development, the dynamic mobile-friendly site elegantly sizes down content to smaller window sizes, tablet screens and mobile sizes to give the best presentation and functionality for each screen.
Silver Square
Founded in 2000, Silver Square, Inc. is a creative, trusted full-service marketing firm telling crazy-good stories for its clients. In case you haven't heard, Silver Square is known for hitting it out of the park, using funny as a business tactic, offering expert advice through content marketing, being brutally honest, exploiting social media and reveling in its clients' successes. Its clients include WellPoint, Bingham Greenebaum Doll LLP and Indiana Design Center. Visit http://www.silversquareinc.com or call 317-569-5977.
Meridian Sod Farm
Before Meridian Sod Farm entered the market, there were no sod farms in Marion County, so we knew that the Indianapolis metro area was not getting the highest-quality sod possible. We decided to fix that. Meridian Sod Farm makes it possible to pick up sod and install it quickly. At Meridian Sod Farm, we focus on the science of turf, primarily serving landscapers for residential, commercial and municipal jobs.