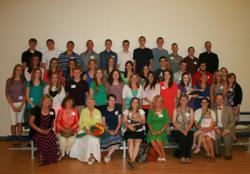 My education at Everest helped me develop my talents and character so that I could be the leader I was meant to be. I never would have guessed that when I was eight years old.
Lemont, Illinois (PRWEB) August 30, 2012
The alumni of Everest Academy in Lemont are making a difference in their respective fields. Their recent gathering brought together nearly 70 former students from the past 15 years who are currently launching their careers or continuing their studies in high schools and universities. The reunion included Mass, dinner, games, and time to reminisce and have fun with former classmates.
Everest alumni continue to excel in their advanced educational endeavors as graduates of a school that emphasizes leadership through academic excellence, faith, character, and service. Everest's academic excellence was apparent as students entered high school and college. Maggie ('05) and Suzanne Beecher ('08) both became National Merit Scholars. Maggie is a senior business major at Texas A&M, while Suzanne is pursuing nursing studies at Baylor University. Brian A'Hearn of Lemont ('06), a computer engineering student at the University of Illinois, interned as a software engineer this summer for Garmin Incorporated of Olathe, Kansas. After the alumni event, Brian commented, "My education at Everest helped me develop my talents and character so that I could be the leader I was meant to be. I never would have guessed that when I was eight years old." Taking her science education to the next level, Maria Radcliffe of Lisle ('10) is majoring in biochemistry and molecular biology at Benedictine University while hoping to study medicine.
Various careers and mission activities chosen by alumni exemplify the heart of service developed at Everest Academy. Claire Hogan of Downers Grove ('04) received a dual degree from Niagara University and the International University of Applied Sciences in the field of hotel management, with an additional degree from Niagara in psychology. Her sister, Julia Hogan ('02), will receive her Masters Degree in Clinical Psychology in 2013 from the Institute for Psychological Sciences and pursue licensure as a Clinical Professional Counselor. Stephanie DeRoche ('01) of Lemont graduated magna cum laude from University of Dallas and is now teaching second grade at Everest.
Besides service careers, Everest alumni freely give their time and talents to others. Cori Carmona of Lombard ('08) is spending the next year as a Mission Corp volunteer, while Sean DeRoche of Lemont ('09) journeyed on a summer mission trip to Mexico to build houses and serve families in impoverished areas. After excelling in languages at Regina Apostolorum University in Rome, seminarian Joseph A'Hearn ('02) teaches Greek, Latin, Physics, and Astronomy at the Legion of Christ College in Cheshire, CT.
Everest's continued emphasis on the arts has discovered Katie Carmona ('06) earning college credits by using her talents as a character performer in Walt Disney World this fall. Anne Marie Alwan ('08) starred in musical productions at Lemont High School including the play, "Chicago." Frank Zabilka ('10) of Lemont, earned a lead in Benet Academy's Spring production, going on to participate in more musicals at Mother McCauley High School and the Oak Lawn Community Theatre. While in Middle School at Everest, Frank edited and directed the school Christmas programs as a sixth, seventh, and eighth grader. "I am grateful for the opportunities Everest offered me to grow in skill and confidence by challenging me at such a young age to be a director, not just an actor. I had a great time there, too," said Frank, now 17 and a junior at Benet Academy.
Various local high school sports teams have benefitted from the talents of alumni who received their start at Everest Academy. Taylor Farrell ('09) is playing football for Marmion Academy. Brent Predovich ('09) and Nick Pieta ('09) have played football at Nazareth Academy. Besides competing on the swim team, Sean DeRoche ('09) and Danny Lawler ('09) currently play on the Benet Academy Varsity Football team. Paddy Lawler ('10) participated on Benet Academy's Soccer team and in Track and Field. Sheila Lawler ('11) is on the Benet Academy Avions Dance Team. Everest graduate Gabby Diamond ('10), was delighted to earn a place on the St. Ignatius Prep Volleyball team. Zach Luebbers ('08) played both offense and defense to bring the St Patrick's (Peoria, IL) Varsity Football team to the State Finals last year. He said, "I appreciate the self-discipline we learned at Everest."
Everest Academy is an independent Roman Catholic school in Lemont educating children for leadership from pre-kindergarten through eighth grade. The teachers and staff are dedicated to forming the whole child by providing the highest level of academics, by building strong character, and by preparing generous leaders ready to serve the community. Learn more about Everest Academy's approach to education, by contacting Heidi Matelich at 630-243-1995.