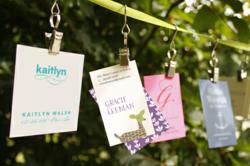 WEST KENNEBUNK, MAINE (PRWEB) August 31, 2012
From the late 18th to early 20th centuries, members of fashionable society would leave their personal calling cards behind when a hostess was unavailable to receive them during visiting hours. Back then, calling on others was a finely observed social custom and vital communication tool. Distinct rituals were attached to calling cards, including the de rigueur practice of leaving them on display in front halls. Others who dropped in could see who was friends with the host—an earlier version of visiting someone's Facebook page. With the advent of the telephone, the use of calling cards fell out of fashion, a quaint custom of a bygone era.
Now in the 21st century, calling cards are making a surprising comeback, with a revived interest in fine papers and vintage print methods fueling the trend. Elegant in their brevity, calling cards usually bear the presenter's name and a contact number. Interestingly, many young adults now carry them; in a world of touch screens, an engraved bespoke card stands out.
And now digitally printed calling cards for children are emerging as the latest trend in social media. Busy networking moms find them to be stylish and useful. Typically the child's name, her parents' names and a contact number appear, along with a motif or monogram. "Calling cards help teach my children about thoughtful communication," a Boston mother of two observes. "They're useful, convenient, and a nice touch—people love receiving them! And my daughter feels really special having her own card to bring on play dates."
Fine stationery manufacturer William Arthur has recently introduced a line of calling cards for children. Digitally printed in four optional sizes—in designs for girls, boys, and some gender neutral—the two-sided cards are proving popular among consumers. At accessible prices, with cheerful graphics, monograms and typestyles, calling cards are a charming way to help children navigate the early waters of social networking. 19th century gentility meets 21st-century technology and style.
ABOUT WILLIAM ARTHUR
For more than 60 years, William Arthur's fine stationery products have been helping people turn special moments and once-in-a-lifetime occasions into lasting memories. From their home in West Kennebunk, Maine, William Arthur's craftsmen keep the techniques and traditions of fine paper and printing alive, combining time-honored printing methods with state-of-the-art design and technology. Simply put, everyone at William Arthur is passionate about creating beautiful stationery. That passion is shared with their customers through exquisite products and extraordinary service.
View their extensive collection at williamarthur.com To find an authorized retailer, select the "Find a Dealer" link.