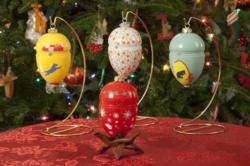 When people look at their Pet urnament, they are drawn to where the happy memories of their pet reside.
Glen Rock, New Jersey (PRWEB) August 31, 2012
On September 4th, Pet Urnaments will be listed on the popular online website, Coupaw.com. Coupaw is a "Subscriber Only" site where select and unique pet products and an assortment of pet related services are presented and offered for purchase at discounted prices..
"In the fifty billion dollar - and VERY competitive - pet product industry, to get our line of Pet Urnaments on Coupaw.com is to take advantage of what I call the sweet spot in today's retail world, the online superstore," says Michael Martino, President of Urnaments LLC.
Coupaw was started in 2011 by Family.Pet.com to offer dog and cat lovers the very best pet products and services offered by pet shops and retailers.
Pet Urnaments are an entirely new kind of keepsake urn, the latest in the widening market of "concept urns" that are changing how people will memorialize their pet companions in the future. First introduced in the United States in May, 2012, the company has aggressively been searching markets for retail venues. (Crematoriums, pet supply shops, online urn stores, etc)
Urnaments LLC was founded by Michael C. Martino in 2010. All engineering / prototyping / designing of the Urnament was completed in November, 2011. Urnaments are technically known as keepsake urns and will hold up to seven inches of a person or pet's ashes. By matching their decorative appeal with an eyelet at the top, Urnaments and Pet Urnaments can be displayed on a Christmas tree or anywhere else in the home.
For more Information please go to http://www.urnaments.com