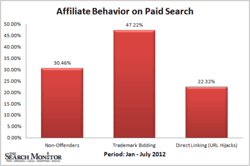 Orlando, Fla. (PRWEB) August 30, 2012
Today, The Search Monitor, a real-time search engine monitoring company, released revealing data regarding affiliate marketing tactics in the paid search channel.
From January 2012 to June 2012, almost 70 percent of affiliate marketers on the major search engines (all Google networks, Yahoo, Bing, and Baidu) bid on trademark terms (47.22 percent) or, even more startling, direct linked (22.32%) from their paid search ads. Direct linking, also known as "URL hijacking," occurs when an affiliate marketer uses a website address for the company he or she is contracted to promote as the display URL in a paid search ad. Simply put, the affiliate marketer is masquerading as someone they are not, reaping benefits from it and driving up pay-per-click costs for legitimate advertisers.
"When we looked at the data for the first half of 2012, we found some surprising numbers. Only about 30% of affiliate marketers, who are using paid search, do it without trademark bidding or direct linking," said Lori Weiman, CEO of The Search Monitor. "That means advertisers with affiliate marketing programs must be vigilant in policing their affiliates. Otherwise, some affiliates will be out there in the marketplace tarnishing your brand and taking money out of your pocket."
Trademark bidding and direct linking affect advertisers negatively by causing increased CPC, diminishing the number of clicks on "real" ads, and lowering impression volumes – all of which decrease returns on the advertiser's paid search spend.
"Where these affiliates really affect an advertiser's bottom line is when a consumer clicks on an affiliate's ad, is cookied with that affiliate's ID and then later clicks on the advertiser's ad and converts. The advertiser just paid twice for that conversion because, not only did they pay for the click on their own ad, now they have to pay the affiliate a commission because that affiliate's ID is tracked to the conversion," Ms. Weiman said.
The Search Monitor compiled this data by examining all search engine paid ads that contained affiliate tracking IDs between January 2012 and July 2012. That data point was then referenced against our database of known brand and trademark terms to determine trademark bidding offenders. If an affiliate's paid search ad contained a website domain (the display URL in the ad) that did not match a valid destination domain, the affiliate was determined to be direct linking.
About The Search Monitor
The Search Monitor monitors paid search, organic search, social media, mobile search, and shopping engines worldwide for brand and affiliate compliance, and competitive intelligence. Interactive agencies, search marketers, and affiliate marketers use The Search Monitor to gather and analyze competitive information more effectively. To learn more please visit http://www.thesearchmonitor.com.