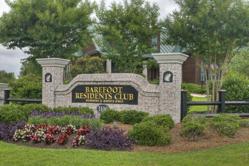 Without the Brivo system, I simply could not effectively manage this number of people. It makes my day to day easier, and I'm much more productive. Pam Basilicato, Community Association Manager, Omni Management Services
Bethesda, Maryland (PRWEB) August 29, 2012
Brivo Systems LLC, leader in cloud applications for security management, today announced that several properties in the Barefoot Resort complex in Myrtle Beach, SC have deployed the Brivo ACS WebService® cloud-based solution to improve safety and security. STOP Security is the dealer and installer for this large-scale project.
Barefoot Resort is a sprawling 2300-acre resort that includes 14 communities each with their own pool, four world class golf courses, tennis and basketball courts, bike trails, walking paths, and South Carolina's largest swimming pool. At the resort, Omni Management Services manages the Master Associations, which include more than 700 single-family homes; oversees resort operations for 2,800 owners; and directs the homeowner associations of five condominium developments totaling 1,000 units.
Starting in 2008, video surveillance was installed at one of the Barefoot property's clubhouses. At that time, all of the Barefoot communities under Omni Management relied on standard lock and key and telephone access systems for common amenities such as clubhouses and pools, as well as residential homes and condos.
Around this same time, Pam Basilicato, Community Association Manager at Omni, began investigating a better way to manage access for the many properties she oversees. During the course of her search, Joey James of STOP Security introduced her to the Brivo cloud-based access control system. "This was something we were looking for—a web-based system." Omni decided to install Brivo at the Barefoot Resort Club and at the Clearwater Bay condominiums. Basilicato experienced the power and flexibility of her Brivo system and when James proposed installing Brivo at additional properties also in need of upgraded security, "I was thrilled, we were used to the Brivo system, we liked it. We didn't hesitate at all to install Brivo at additional properties."
To date, Brivo cloud-based access control has been installed at the Barefoot Residents Club, the Clearwater Bay Condominium Clubhouse, The Havens condominium pool and at six secured residential buildings, and at both the Willow Bend and Heron Bay complex pools. Omni utilizes Brivo to manage 24 access points across these five properties.
Basilicato has created groups for residents of each of the separate properties, for vendors who need 24/7 access, for management, a host of other vendors, and for those working on temporary projects within the resort. Each group is programmed for specific day, time, and location access, based on their needs. "For temporary projects, I can activate a card or a fob corresponding just to the length of the project. When the project is completed, that access is deactivated—that's another great thing about Brivo," Basilicato explained. Omni controls access for over 3,000 residents, vendors, staff, and temporary visitors to clubhouses, pools, and residential buildings.
In addition to standard access control, Basilicato and her team run activity log reports to see who is going where after hours and identifying instances when residents are attempting access where and when they should not be doing so. "If I'm told someone is in the pool at 1:00 am, I can see whose cards were used or were attempted to be used. The system is very user friendly and it's accurate; I love it. It gives me all the info I need to take proper, informed action. I've used the reports function quite a bit," Basilicato said.
"Without the Brivo system, I simply could not effectively manage this number of people. Our telephone entry system was too time consuming and inefficient. Now, we have control from one location. It makes my day to day easier, and I'm much more productive. We are constantly getting called by our residents and guests, and now it's easy to take care of their access needs. I've had no difficulty over the years convincing any of my Boards to adopt the Brivo system. They ask me, 'Will it make your job easier?' Yes, of course, I respond. It's a win-win for everybody and especially for our residents. They're thrilled we're more efficient and meeting their needs," Basilicato concluded.
For more information on ACS WebService, contact Brivo toll–free at 1-866-692-7486, option 1 or email sales(at)brivo(dot)com.
About Brivo Systems
Brivo Systems LLC is a SaaS-based security management systems provider for organizations that need to protect and remotely monitor buildings and perimeter entry points. When introduced in 2001, Brivo's Web-hosted physical access control system was a unique solution—after a decade of evolution and innovation, it still is. Brivo's groundbreaking physical access control and video solutions empower organizations by giving administrators real-time device control, including immediate visibility of security events and video in local or remote facilities—anytime, anywhere.
The company's innovative, secure, and open architecture-based products and services enable businesses to protect people and assets, comply with regulations, and improve business operational efficiency. These scalable systems—whether standalone or appliance-based or cloud-based—offer a solution for every type of business. Brivo's security management products are a market-proven fit for commercial office buildings, warehouses, retail stores, manufacturing plants, and sensitive areas, such as server rooms or R&D labs, where real-time control and accountability of entry are important.
With headquarters in Bethesda, MD, Brivo is a wholly-owned subsidiary of The Duchossois Group, a privately held holding company headquartered in Elmhurst, Illinois, which also owns other industry leaders such as AMX, The Chamberlain Group, and Milestone AV Technologies. Duchossois also holds strategic interests in Churchill Downs, Inc., and a number of other diversified businesses.
For Media queries:
Bruce J. Doneff
Public Relations
(843) 476.3022
bruce.doneff(at)brivo(dot)com
For Brivo Systems, please contact:
Rajeev Dubey
Senior Director, Marketing
301.664.5251
rajeev.dubey(at)brivo(dot)com
###