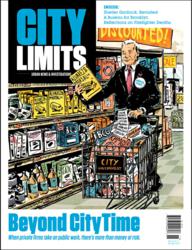 "Our combined digital platforms provide us the opportunity to build an unprecedented and powerful nonprofit media organization with a clear mission to provide news to—and increase civic engagement in—New York City's under-served communities."
New York City, New York (PRWEB) August 30, 2012
To provide a rigorous brand of investigative coverage to the Bronx—the nation's poorest urban county—City Limits has acquired the Bronx News Network (BxNN), founded five years ago by the Mosholu Preservation Corporation, a not-for-profit corporation established by Montefiore Medical Center.
City Limits (CityLimits.org) will stop publishing its magazine and focus on building a sustainable, non-profit digital model, strengthening collaborative efforts with news peers, and launching civic engagement initiatives around the policy issues it covers. Early this year, City Limits launched the Brooklyn Bureau, with a $100,000 grant from the John S. & James L. Knight Foundation and Brooklyn Community Foundation.
"With City Limits, the Brooklyn Bureau, and now the BxNN, we felt we could best fulfill our organization's mission by focusing on what really matters—the reporting—and getting it to as many diverse and distant audiences as technology permits," said Mark Anthony Thomas, director of City Limits. "Our combined digital platforms provide us the opportunity to build an unprecedented and powerful nonprofit media organization with a clear mission to provide news to—and increase civic engagement in—New York City's under-served communities."
City Limits was founded in 1976 as a news organization by advocacy organizations to improve the information flow among the hardest-hit communities after the city's fiscal crisis. Its magazine was the focus for much of its 36-year history. In 1996, City Limits established the Center for an Urban Future, a leading and now separate think tank. City Limits' coverage of economic, social and criminal justice issues has garnered a number of recent awards, including the Society of Professional Journalists' award for publishing the top local investigative magazine story in the country in both 2010 and 2011.
An independent project of the Community Service Society of New York, City Limits is supported by foundation funding and earned revenue, and is one of the sole outlets devoted to investigative reporting on urban policy issues in the five boroughs. In 2011, Mayor Michael Bloomberg proclaimed a "City Limits Day" for the organization's work as a "model for New York and for the rest of the nation."
The BxNN was founded in 2006 to provide local news to inform and empower the Bronx's 1.4 million residents. Its website was recognized by the Village Voice as one of the city's top blogs in 2009. The site will take a brief hiatus for re-design and fundraising efforts to bolster its ability to cover the borough's underserved communities.