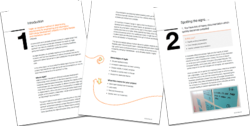 London, United Kingdom (PRWEB UK) 30 August 2012
Continuing their series of regular white papers, Box UK has recently released "Five Signs Your Web Project Needs Agile". Focusing on the main features and benefits of the Agile approach to project management, the paper includes a checklist of telltale signs that may suggest room for improvement in the speed and quality of web project delivery.
For readers who recognise themselves in the issues listed, the report also offers expert advice and recommendations for successfully switching to Agile, encouraging companies to improve their project management processes in an iterative and evolutionary fashion.
With years of experience helping clients across a range of industries optimise their project management, Box UK has a proven history of delivering measurable improvements in efficiency, quality and return on investment. This month Agile specialists Stuart Arthur and James Harvey, along with Scrum coach Paul Goddard, will be on Twitter to discuss the merits of the approach and share their knowledge as part of the regular live chat event #boxchat. Read the transcript from July's event to find out more about the format, and get involved in this month's debate by using hashtag #boxchat at 6.30pm (BST) on the 30th August.
To stay up-to-date with Box UK news, sign up to the mailing list where each white paper is released as part of a regular newsletter containing exclusive news, offers and invitations. Box UK's earlier white paper "Six Things You Need to Know About Your Users", which launched earlier this summer and centred around User Experience considerations, can also be downloaded via the website.
About Box UK
Box UK is a team of thought leaders, consultants and application developers engaged in the rapid and precise design and delivery of high-performance software products and services for progressive enterprises worldwide.
Established in 1998, Box UK's client list includes BBC, LAN Airlines, Investec Asset Management, the National Gallery, Chartered Institute for IT, EDF Energy and Severn Trent Plc.