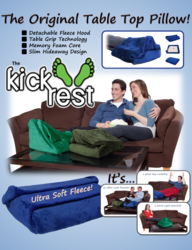 "I literally use my Kickrest every day.... The general consensus [here] is that almost no one living on campus has a recliner or comfortable table to put their feet, and The Kickrest provides a practical and affordable solution. Dan Kent (College Student)
Boston, MA (PRWEB) August 31, 2012
The manufacturers of The Kickrest do not claim that their product improves grades but they are confident that it will make students more comfortable this coming school year. The patented product essentially lets any user rest their feet and legs on an elevated surface while providing comfort, stability, and protection of furniture. The product was conceived when the inventor purchased a new coffee table but then did not have a comfortable place to rest his feet; His solution was to create a memory foam footrest with special features that make it ideal for placing your feet on a coffee table, on an ottoman, or for use under your desk at work.
Dan Kent, a senior at St. Lawrence University reports, "I literally use my Kickrest every day, and fully believe it is going to take off. The general consensus [here] is that almost no one living on campus has a recliner or comfortable table to put their feet, and The Kickrest provides a practical and affordable solution."
The Kickrest is covered in fleece which allows the user to use the product with bare feet, or socks, and if a person chooses to rest his or her shoes on the product the cover is a washable material. There are two properties that make this product different from other foot rests. The first is a special material that the company markets as "table grip technology;" This material is affixed to the bottom of the devise and it acts as a non-abrasive, safe substrate that grips the surface it is placed on.
The most recognized feature on the product is the patented 'foot hood' that allows the user to place their feet inside a fleece envelope on top of the pillow for added warmth and comfort. This feature is removable via an attachment system fastened to the underside of the product. The 'foot hood' solves the problem of having blankets that are too short to cover a one's entire body. This product fixes this condition by covering the feet and ankles with a warm soft material and is the reason why some refer to The Kickrest as "the Snuggie for the feet."
The product is now available in various colors and can be purchased online with any major credit card. The company, founded in Vermont, wants people to know that 'Finally, it's ok to put your feet on the table.' To see who is currently kicking it, there is a Facebook page available at http://www.facebook.com/Kickrest. Those who choose to "like" the page can find out more details about the company and be informed when new colors or products become available.