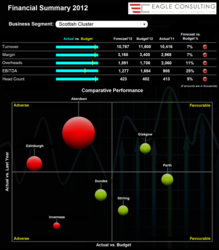 Survival is often determined by decisive action borne of high quality information. Failure the result of disinformation and the resultant poor decisions.
(PRWEB UK) 30 August 2012
Eagle Consulting (Management Accountants) is pleased to announce the launch of its Executive Desktop Service. This will provide new and existing clients with the opportunity to design and access key business information in a variety of intuitive graphical and tabular formats. One of the key requirements to ensure survival in a tough economic environment is the access to accurate reliable information. For the busy executive this information has to be available wherever and whenever they demand.
In the current economic downturn executives need to know where to focus their efforts. To do so this requires them to have visibility of regular comparative information identifying key information such as weekly revenue and expenditure, enquiries, order, production backlogs and headcount patterns in comparison to forecast and historic data. The presentation of that information in an intuitive manner will lead the executive to those areas requiring attention and where the greatest impact can be made. Perhaps in the boom years it was acceptable to receive a mountain of indecipherable accounting data 3 weeks into the following month. A further week might then be spent questioning, reviewing, correcting and producing additional analyses before any informed action could be taken. In a recession a high quality Management Accounting service comes into its own and can be the difference between survival and failure.
Experience with many existing accounting systems and structures shows that accounting departments produce huge quantities of data which is often late, perhaps inaccurate and then requires considerable interpretation and analysis before any decision can be made about what action to take, by which time further deterioration has occurred and other problems arisen. The busy executive is left floundering, ill informed and risks taking the wrong decision or wasting time on an insignificant problem. Eagle Consulting is a UK based management accounting company delivering an exacting service to a broad range of medium-sized clients nationwide. An independent company focussed solely on delivering an efficient management accounting service free from the distractions of Audit, Corporate Finance and Restructuring they have invested in new technology such as Purchase Ledger Automation (typically 30% of any accounts departments costs), Human Resource Rotas and now the Executive Desktop.
Perhaps your business is suffering from a surplus of data and a lack of information and now is the time to contact Eagle Consulting and bring clarity to your desktop. To find out more contact Harry Hornby, Director at Eagle Consulting.