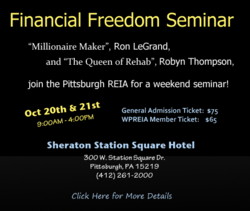 "Nobody teaches you how to raise private money better than my friend Jay Conner" Josh Caldwell
Pittsburgh, PA (PRWEB) August 31, 2012
This once in a lifetime event is being sponsored jointly by the Western PA Real Estate Investors Association, the fastest growing real estate investors club in Pennsylvania, and DotcomsecretsX, one of the Nations leading internet marketing education companies. This two day seminar is part of an ongoing Financial Freedom Seminar series initiated by the Pittsburgh based investing group. The event is geared toward helping novice and experienced investors learn to make money in the current real estate market. Speakers will be presenting a variety of topics to the audience, to include raising private funds, rehabbing real estate for big money, and quick turning houses for quick cash-outs.
The media continues to churn out story after story about the sad state of the economy. In most cases the press is correct. Real estate investors are the lone bright spot in an otherwise dismal economic picture. For the well trained investor, there has not been a better time to be in real estate in the past 60 years. The bargains are spread across all markets and all price points. To cash in on this once in a lifetime transfer of wealth take skill and knowledge. The Western PA Real Estate Investors Association invites the public to see Jay Conner and some of the best minds in real estate on the same stage. There is no better place to learn how to make the money in today's market.
No similar event has been held in the Pittsburgh Metro area in over a decade. The combined expertise of the presentors is unlikely to replicated at any time in the future. Tickets are limited to the first 150 people who register. This event is expected to sell out.
Anyone interested in attending should contact the Western PA Real Estate Investors Association.
Or to purchase tickets directly, got to http://pittsburghreia.com/