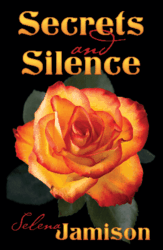 In 'Secrets and Silence,' author Selena Jamison takes readers on a rollercoaster ride of emotions.
Glendale, AZ (PRWEB) August 29, 2012
Deciding to find someone to teach her 6-year-old daughter to sing leads a married mother of three down an unforgettable path of love and heartbreak. In this new novel, Kristen Halloway becomes more and more drawn to Tim Latten, a 38-year-old musician who teaches at his family's academy. As he builds a relationship with young Gillian, Kristen can't stop thinking about him, listening to a CD of his piano music and considering all the "signs" that brought him into her life. But does she have the courage to leave the only security she's ever known, risking it all for love?
In "Secrets and Silence," author Selena Jamison takes readers on a rollercoaster ride of emotions, as Kristen and Tim dance around their growing attraction for each other. Problems arise, as Tim seems to be keeping secrets that would threaten any advances Kristen makes. The relationship escalates as the two start texting, but an unstable girlfriend – and Kristen's lingering doubts about what Tim is hiding – threaten to derail the pair before they become physically involved. As their loves begins to shine through, shadows gradually begin to pierce the once-bright future they both long to have. They must decide if they can they work through their differences to achieve the happiness they desire.
For additional information, please visit http://www.secretsandsilence.com.
Secrets and Silence
Selena Jamison
Dog Ear Publishing
ISBN: 978-1-4575-1177-6
352 pages
$15.99 US
Available at Ingram, Amazon.com, Barnes & Noble and fine bookstores everywhere.
About Dog Ear Publishing, LLC
Dog Ear Publishing offers completely customized self-publishing services for independent authors. We provide cost-effective, fast, and highly profitable services to publish and distribute independently published books. Our book publishing and distribution services reach worldwide. Dog Ear authors retain all rights and complete creative control throughout the entire self-publishing process. Self-publishing services are available globally at http://www.dogearpublishing.net and from our offices in Indianapolis.
Dog Ear Publishing – self-publishing that actually makes sense.