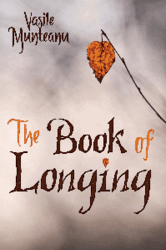 Munteanu turns to poetry to highlight the emotions involved with this extraordinary state of being.
Las Vegas, NV (PRWEB) August 29, 2012
Poetry allows writers to express themselves in ways that differ from traditional writing. Vasile Munteanu explores the many aspects of unmitigated desire in this new collection of poems, covering themes, emotions and mental states of longing. Expectations can't be appeased by ignoring them, Munteanu notes, leading to self-loathing and self-appreciation at the same time – one of the hidden aspects of desire and longing. Munteanu turns to poetry to highlight the emotions involved with this extraordinary state of being.
"The Book of Longing" features 30 poems from the epic entry "Book at Rest" to the poignant "It Rained Again." A desire for true companionship rings through the poem "It's Lonely in New York," as the subject feels surrounded by shallow people: "It's lonely when you know too many people, I've heard it said and now I know it's true. Such lives seem to be like a deserted stipple, with hollow sounds passing through and through." The haunting words of the poem "Afternoon" hint at unfulfilled desire: "There is a distance time cannot abridge between the moment and the self that was. There is the self-inflicted vertigo that instigates an unappeased because." Poetry proves to be a formidable force in Munteanu's hands.
Author Vasile Munteanu, born in Romania, earned a bachelor's and a master's degree in English from Oakland University in Michigan and a Ph.D. in philosophy, interpretation and culture from State University of New York at Binghamton. He teaches literature and philosophy courses at the College of Southern Nevada in Las Vegas and has written the novels "Godmaker" and "Chandala." His poetry books include "Forgotten Words," "The Book of Aloneness," "The Book of Remembrance," "The Book of Intentions" and "The Book of Insistence."
----------
For additional information, please visit http://www.vmunteanu.net.
The Book of Longing
Vasile Munteanu
Dog Ear Publishing
ISBN: 978-1-4575-1310-7 116 pages $40.00 US
Available at Ingram, Amazon.com, Barnes & Noble and fine bookstores everywhere.
About Dog Ear Publishing, LLC
Dog Ear Publishing offers completely customized self-publishing services for independent authors. We provide cost-effective, fast, and highly profitable services to publish and distribute independently published books. Our book publishing and distribution services reach worldwide. Dog Ear authors retain all rights and complete creative control throughout the entire self-publishing process. Self-publishing services are available globally at http://www.dogearpublishing.net and from our offices in Indianapolis.
Dog Ear Publishing – self-publishing that actually makes sense.