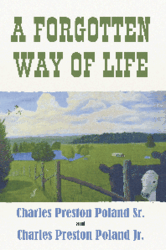 In the mid-20th century, 50 percent of Americans were farmers, the authors note; by the end of the century, only 2 percent farmed.
Chantilly, Va. (PRWEB) August 30, 2012
The Poland family provides a lens to view the late 19th century and early 20th century, when horses powered vehicles and farm equipment. This new biography tells the story of the shift from the farm to the city as it occurred in northern Virginia, revealing 130 years of history through the lives of farmer Preston Poland and his family. The family's transition from the waning days of agrarian knowledge and ways to technology and urban lifestyles is typical of many people in those generations but no less important in shaping the country. In the mid-20th century, 50 percent of Americans were farmers, the authors note; by the end of the century, only 2 percent farmed.
"A Forgotten Way of Life" draws on Charles Sr.'s story of his life, which he wrote before his death at the end of the century. Charles Jr. expands the original 70-page account, using his own memories and interviews with his father, mother, wife and other family members in the last 40 years. His ancestors, Alpheus and James Poland, came to the community in the late 1800s. The authors detail the hard daily life on a farm, made harder without running water or electricity; just washing clothes required multiple trips to the creek or pump. Farm pets were not treated as extended members of the family; instead, they lived outside and often had to catch their own meals. People also had to work for their meals, cutting heads off chickens they raised for that purpose and harvesting crops.
Farm life for children included home visits from physicians, helping in the fields or gardens, whitewashing fences and outbuildings, cutting wood and attending a two-room school. Milking, done by hand, had to be done twice a day and involved not only the actual milking but catching and persuading the cows to the stanchions that hold them during milking. In their rare spare time, children played marbles, hide-and-seek and horseshoes and swam in nearby ponds and creeks. Charles Sr. weathers the Great Depression, marrying a beautiful woman and managing poultry farms, dealing with a thieving night watchman, jumping from a moving train with his young son and generally living life on his own terms. Charles Jr.'s history further documents the trend for farmers to move into other lines of work. Photographs throughout the book reveal the changing times – for both the Poland family and the nation -- in unforgettable images.
Author Charles Preston Poland Sr. was born in 1912 in rural Loudoun County, Virginia. Poland's father was killed when Charles was 9, leaving his wife to raise their five children. Charles started his own poultry hatchery during World War II and built homes in the 1950s. He was head of a rural electrical cooperative for three decades while serving more than 20 years on the Loudoun County Planning Commission. His son, Charles Preston Poland Jr., is professor of history at Northern Virginia Community College. Charles Jr., who has written seven books, founded and directs the Northern Virginia Community College Civil War Museum.
----------
For additional information, please visit http://www.loudpolanhist.com.
A Forgotten Way of Life
Charles Preston Poland Sr. and Charles Preston Poland Jr.
Dog Ear Publishing
ISBN: 978-1-4575-0935-3 236 pages $18 US
Available at Ingram, Amazon.com, Barnes & Noble and fine bookstores everywhere.
About Dog Ear Publishing, LLC
Dog Ear Publishing offers completely customized self-publishing services for independent authors. We provide cost-effective, fast, and highly profitable services to publish and distribute independently published books. Our book publishing and distribution services reach worldwide. Dog Ear authors retain all rights and complete creative control throughout the entire self-publishing process. Self-publishing services are available globally at http://www.dogearpublishing.net
and from our offices in Indianapolis.
Dog Ear Publishing – self-publishing that actually makes sense.