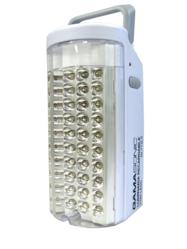 With the hurricane season, camping season and the up coming shorter days, we have a powerful new rechargeable LED lantern to light your way."
Atlanta, GA (PRWEB) August 30, 2012
Gama Sonic USA the leading manufacturer of solar powered and rechargeable lighting products, introduces their latest product, a Rechargeable LED Lantern.
Featuring 40 LEDs this lantern will definitely be appealing for all your emergency and portable lighting needs. The Rechargeable LED Lantern is a portable light source with 40 LED's that lasts 7 hours on a full charge. It can be used while camping, during emergencies, or any other time when you need extra light. Its efficient LED's provide the best illumination and precise lighting for all your indoor and outdoor tasks. And it's a must have in your emergency preparedness kit.
The Rechargeable LED Lantern, when plugged in, is uniquely designed to automatically come on when you experience any loss of power. With hurricane season upon and their ability to knock out power for extended period of time, this lantern will prove invaluable for those instances when there is a loss of power.
A convenient carrying handle is attached to the light for easy portability. You can also wall mount the unit. Comes with a one-year manufacturer warranty.
Roy Salsich, Manager, Sales & Marketing at Gama Sonic says, "This powerful rechargeable lantern reflects our commitment to providing consumers with all their portable lighting needs. And all the excellent reviews about our products show our commitment to providing quality solar and rechargeable lighting products. "
The Rechargeable LED Lantern is available now through many internet retailers.
Visit our website for a list of authorized dealers.
Gama Sonic USA was established in 1985 as a manufacturing and marketing company of emergency lights and other electronic products.
Since 2006 Gama Sonic USA has focused on the solar lighting market and continues to develop innovative solar products. The unique designs, expertise in solar lighting, and installation options are second to none worldwide. With several patent protected products, Gama Sonic distributes to over 20 countries worldwide.