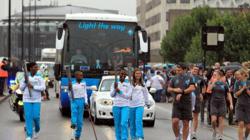 As an Ambassador for International Inspiration it is fantastic to see how the programme has touched these young people's lives, bringing them closer together and encouraging them to look beyond personal challenges.
(PRWEB) August 29, 2012
Three young people today fulfilled the opportunity of a lifetime to run with the Paralympic Torch as a result of their involvement in London 2012's international sports legacy programme, International Inspiration.
16 year-old Erica from London, 14 year old Anthony from Trinidad & Tobago and 16 year old Mary from Tanzania were selected amongst nominations sent from the UK and the 20 countries which are part of the programme.
In the process, the three young people involved in the programme got to meet International Inspiration Ambassador Oscar Pistorius, gold medallist and world record holder, who praised them for reflecting the Paralympic Values of courage, determination, inspiration and equality.
Each International Inspiration Torchbearer was nominated and selected either for their dedication and commitment to inspiring children and young people in their communities through the power of sport or for the personal challenges they have overcome in their lives.
Erica Kouassi was nominated by her schoolteacher at Hornsey School for Girls because she demonstrated the Paralympic Values in her day-to-day life by showing leadership and challenging inequality to create opportunities for young people of all abilities so they can access sport and play in her school and community.
Anthony Kipps was born with Right Primary Focal Femoral Dysplasia resulting in his right leg being much shorter than his left but he has never let this stop him from doing anything. He is a young leader for International Inspiration, involved in the student council and part of the swim team. Later this year, he will be undergoing training to volunteer at the first National Paralympic Games in Trinidad this year.
Mary Tarimo is a member of the International Inspiration club in Tanzania. She has gone through training to become a young leader, which has included training in the inclusion of young disabled people and child protection. She regularly gives up her time to assist young disabled children at a nearby primary school in sports and games sessions, particularly basketball and athletics.
International Inspiration is bringing to life the promise made by the London 2012 bid team where they pledged to reach young people all around the world and connect them to the inspirational power of the Games so they are inspired to choose sport. The programme is delivered around the world by a unique partnership of organisations including the British Council, UNICEF UK and UK Sport.
The programme is enriching the lives of more than 12 million children in 20 countries around the world through high-quality and inclusive physical education, sport and play.
Oscar Pistorius said: 'As an Ambassador for International Inspiration it is fantastic to see how the programme has touched these young people's lives, bringing them closer together and encouraging them to look beyond personal challenges. It's a fabulous legacy for the London 2012 Games and one I am proud to represent.'
Anthony from Trinidad & Tobago said: 'For me it was amazing to meet Oscar Pistorius. Like me he has a disability to his legs but he is an amazing athlete and it makes me think that I can be successful and that it's good for me to keep trying new sports. At home in Trinidad doing sports is very important and I like being part of that with International Inspiration.'
Notes to editors:
For further information please contact the London 2012 Press Office.
The Official London 2012 Join In app is a free mobile guide to help you plan, enjoy and share your Games experience. From the Paralympic Torch Relay to the Opening and Closing Ceremonies, plus all the cultural, city and community celebrations happening across the UK, the Official London 2012 Join In App is your essential companion. It is available now at app stores and at http://www.london2012.com/mobileapps/
About International Inspiration:
The International Inspiration programme is governed by an independent charitable foundation. International Inspiration is supported and funded by a mixture of organisations and Foundations, including Department for International Development (DFID), the British Council, the Premier League, UNICEF, the Department for Culture, Media and Sport, Comic Relief, the Laureus Sport for Good Foundation, the GE Foundation and individual donors. The programme is also supported by the Youth Sport Trust, the British Olympic Association and the British Paralympic Association and individual donors.
To enable longer-term impact, the programme is developed jointly with the governments, National Olympic Committees and National Paralympic Committees, where appropriate, of participating countries. The programme is supported and welcomed by the International Olympic Committee and International Paralympic Committee.
The vision of International Inspiration is to use the power of sport to enrich the lives of millions of children and young people of all abilities in schools and communities across the world, particularly developing countries, by offering them the opportunity to access and participate in high-quality and inclusive sport, physical education and play. The programme is already changing the lives of young people in twenty countries - Azerbaijan, Brazil, Bangladesh, Egypt, Ethiopia, Ghana, Jordan, India, Indonesia, Malaysia, Mozambique, Nigeria, Pakistan, Palau, South Africa, Tanzania, Turkey, Trinidad and Tobago, Uganda and Zambia - and has already enriched the lives of over 12 million children and young people.
International Inspiration was developed as a result of the commitment made by the London Bid team in Singapore in 2005 to 'reach young people all around the world and connect them to the inspirational power of the Games so they are inspired to choose sport'.
The school partnerships are managed by the British Council, which has long experience of linking schools internationally, working in partnership with the Youth Sport Trust, which utilises its expertise in developing teachers and young leaders through sport.
London 2012 Paralympic Games partners:
The Worldwide Paralympic Partners who support the London 2012 Paralympic Games and the National Paralympic Committees around the world are Atos, Samsung and Visa.
LOCOG has sixteen domestic Tier One Partners - Acer, adidas, BMW, BP, British Airways, BT, Coca-Cola, Dow, EDF, GE, Lloyds TSB, McDonald's, Omega, Panasonic and Procter and Gamble and Sainsbury's. There are seven domestic Tier Two Supporters – Adecco, ArcelorMittal, Cadbury, Cisco, Deloitte, Thomas Cook and UPS. There are twenty-nine domestic Tier Three Suppliers and Providers – Aggreko, Airwave, Atkins, Boston Consulting Group, CBS Outdoor, Crystal CG, Eurostar, Freshfields Bruckhaus Deringer LLP, G4S, GSK, Gymnova, Heathrow Airport, Heineken UK, Holiday Inn, John Lewis, McCann Worldgroup, Mondo, NATURE VALLEY, Next, Nielsen, Otto Bock, Populous, Rapiscan Systems, Rio Tinto, Technogym, Thames Water, Ticketmaster, Trebor and Westfield.
The London 2012 Paralympic Games also acknowledges the support of the National Lottery.