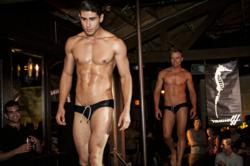 While other swim and underwear companies continue to outsource manufacturing overseas, we believe that Vanwolff products should be made locally.
Los Angeles, CA (PRWEB) August 30, 2012
On August 24, 2012, Vanwolff, a new Los Angeles-based men's swim, underwear and apparel company, revealed its first swimwear preview 2013 collections: "Prey" and "Essentials" to a packed house at the Abbey in West Hollywood, CA.  Over 300 fans and revelers attended the standing-room only event featuring seven runway models adorning 22 swimwear pieces. The company's premium line, "Prey," includes fourteen unique aquatic animal designs specially engineered and embedded into the fabric; while the company's more basic swimwear line, "Essentials," offers a selection of four vibrant colors using the same sleek, innovative styles.
Vanwolff is the brainchild of award-winning Canadian designer Andrew Maxin, who has had extensive experience designing creative campaigns for Ray Charles, Creedence Clearwater Revival, Ella Fitzgerald and the film soundtracks for Babel, Good Night and Good Luck, and Indiana Jones.  Having resided in Los Angeles for nearly a decade, Maxin is no stranger to the fashion industry, coming from a long line of designers in his family who were the first to bring 'Invisible Mending' to British Columbia in the early 1980s.
"We're incredibly grateful for the impressive turnout, enthusiasm, and fan support," said Maxin. "The past seven months have been an incredible ride and we're looking forward to expanding our collection."
Available in briefs and trunks, both lines boast Vanwolff's signature "woven-in-cording," meaning each suit comes adorned with an original clever quote (i.e. "I Promise To Behave This Summer," "Looking for Trouble," etc.) expertly woven into the drawstring cording.  The swimsuit material is made of high-end, fade-resistant poly-nylon, and all pieces have lining throughout the entire suit.
Maxin and his partner Mark Waier, a former Ford model, were inspired to launch Vanwolff feeling an overall lack of originality in the designs of men's swimwear.  They describe their line as "uninhibited and 'Cali-chic' — something you'd feel confident wearing at the beach or lounging in at a pool party."
All products are manufactured and assembled locally in the Arts District of downtown Los Angeles.   Moving forward, Vanwolff plans to expand the brand into all aspects of men's swimwear and underwear.
"While other swim and underwear companies continue to outsource manufacturing overseas, we believe that Vanwolff products should be made locally." Said Maxin.  "That's why all items have "Made in Cali" displayed prominently on the tag and box."
About Vanwolff:
Vanwolff is a Los Angeles-based swim and underwear company for men that desire to be different. Founded by Canadian designer Andrew Maxin, Vanwolff products are uniquely designed for the uninhibited, discerning man.  The inaugural lines, "Prey" and "Essentials," are available at http://www.vanwolff.com. Free Shipping is available worldwide. Products are manufactured in Los Angeles, California.