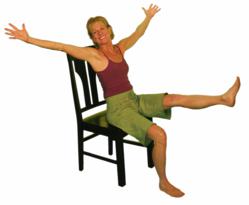 We love having Lakshmi at Discovery Yoga. She always has a great turn-out and the course is beautifully designed and masterfully taught.
Huntington Beach, CA (PRWEB) August 30, 2012
With business expanding for both the live and the online certifications, Lakshmi Voelker, founder of Lakshmi Voelker Chair Yoga (LVCY), has named Tracey Eccleston as co-director. In this role, Tracey significantly increases the number of people the organization can certify annually including in senior fitness as well as adaptive fitness and disabled fitness.
Now LVCY can hold more live certifications and certify larger groups at each one. It also increases the organizations bandwidth for Online Teacher Training over Skype.
Students will continue to receive the same individual attention. This is a must for such an intense program. Significant amounts of material must be covered in order to teach the diverse populations that a Lakshmi Voelker Chair Yoga Teacher encounters.
While senior fitness is a significant goal, there is also a need for additional chair yoga training to accommodate adaptive/disabled fitness. This is a specialty of Tracey's. She worked for a wheelchair manufacturer giving her intimate knowledge of the challenges presented to wheelchair users trying to keep fit. This makes her an especially important addition to the company's certification team.
Tracey will be applying her special knowledge to disabled/aadpative fitness through the LVCY Online Teacher Training over Skype. She is developing a module to provide advanced training in disabled/adaptive fitness beyond what is offered in the standard certification. Many of the over 800 LVCY teachers either already work with the disabled or are wanting to. Both groups have been requesting this additional training to facilitate their teaching.
Tracey Eccleston is a self-motivated yoga instructor and Lakshmi Voelker Chair Yoga Teacher. A proven leader with excellent communications skills, Tracey has expanded her knowledge through her studies with Lakshmi Voelker. As a primary assistant, Tracey logged hundreds of hours helping to train LVCY certification attendees from around the world. She has worked tirelessly in helping to create the LVCY online teacher training program. Now her specialties attained through her extensive work with wheelchair users and with doctors, Physical Therapists, and Occupational Therapists will be put to work in the new LVCY Adaptive Chair Yoga Online Teacher Training.
In developing the online module for disabled fitness, Tracey will employ the Lakshmi Voelker Chair Yoga levels of flexibility uised so successfully for senior fitness. These levels are a key component in making Adaptive Chair Yoga accessible to more people. Additional, she will be drawing on the expertise of those Lakshmi Voelker Chair Yoga Teachers who are healthcare professionals. These are teachers that work in VA Hospitals and schools for the disabled as well as LVCY teachers conducting chair yoga classes for the physically challenged in other settings.
Multiple disabilities will be covered with the primary focus on Multiple Sclerosis (MS), Heart Disease and Stroke, and Arthritis and Joint Pain. Anyone who uses a wheelchair or whose range of motion is severely limited will benefit from a Lakshmi Voelker Adaptive Chair Yoga class.
Tracey expects to have the Lakshmi Voelker Adaptive Chair Yoga online module ready in early 2013.
Lakshmi Voelker, E-RYT 500, YA, IAYT, has over 40 years in the fitness industry specializing in senior fitness and adaptive fitness. She created Lakshmi Voelker Chair Yoga in 1982. Creator of the DVD Get Fit Where You Sit and the CD Lakshmi Voelker Chair Yoga, she has certified more than 750 teachers nationally and internationally, including health-care professionals at the Mayo Clinic and the New York City Department of Education. She does live certifications all around the United States. She also offers Online Teacher Training over Skype. For more information on all her certification programs, click here.