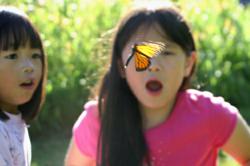 We believed from the beginning, if only one life was saved, all of our efforts would be worthwhile.
Miami, FL (PRWEB) August 31, 2012
Magical Butterfly Releases was created to offer clients a memorable way to remember a special occasion. This new business will help provide the much needed funding to help A Safe Haven for Newborns.
Enhance any celebration with a live butterfly release. Releasing live butterflies is an indescribably memorable experience. Their shimmering beauty and graceful flight are a wonder to young and old alike; indeed, few other creatures universally bring smiles to everyone's face.
Magical Butterfly Releases hopes to help make a special day even more spectacular with a butterfly extravaganza. Guests will leave talking about the release and some may even be walking out with a butterfly on their shoulder. What a perfect photo and video opportunity!
The Monarch Butterfly is nature's ultimate symbol of change, transformation and beauty. Releasing live butterflies at a funeral or memorial service for a loved-one is a very special way to celebrate their life and honor them. What a memorable lasting tribute to them.
After the tragic loss of his dear wife Gloria of 31 years who was involved in a fatal car accident caused by a speeding driver, Nick Silverio wanted to continue her memory and spirit through charitable works. He knew there was no better way to do this than focus on the people she continually helped most in her life - children and the elderly. Gloria and Nick had two miscarriages and therefore had no children of their own but they were godparents to 14 children and nurtured all the nieces and nephews in their family.
He created the Gloria M. Silverio Foundation, a 501©3 not for profit organization and named the first and only project "A SAFE HAVEN FOR NEWBORNS " in response to the tragedy of newborn abandonment.
Many little lives have been saved as of this writing but there is so much more to do. We believed from the beginning, if only one life was saved, all of our efforts would be worthwhile.
Nick was looking for ways to provide funding to help sustain this life saving program. He was searching for something that would symbolically relate to the "Safe Haven Mission", expressing a "New Beginning". One day as he was pondering this thought, a butterfly flew by him. He thought what a wonderful way to help save little lives and create magical memories for others.
Thus began .... Magical Butterfly Releases.
A portion of the net profits are donated to "A Safe Haven for Newborns".
Please visit our web site to see how we can help you create your memories.